Continuing our coverage of the top Florida street food cities, we move onto the highlight of the state, Tampa. With over a hundred trucks in their roster, the city has proven itself to rank just second behind San Antonio as the best city to open a food truck. So it's not much of a stretch to hypothesize that many new business owners may be setting their sights on this ray of sunshine to make their new stomping grounds.
Beware, though; for just because it's one of the best cities to start a truck doesn't mean it's one of the EASIEST. In fact, many owners have openly discussed how much work and effort one needs to put in so as to make it in the confines of this market. And, ironically, despite the many trucks that make a successful home business here, that's due with no help from the parking situation (as you'll read later in this post). It's likely that a good proportion of your business may come not from Tampa itself but from its access to other cities nearby, as Events offer some of the only decently strong enough opportunities to create profit. It's not the best thing to go into alone, without help; which, of course, is why we're here.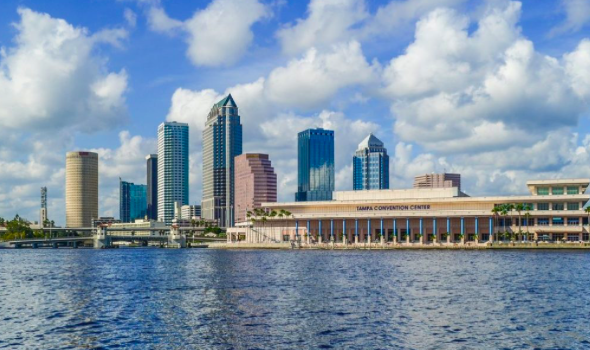 This past week, we contacted Renny Braga of Renny's Oki Doki Food Truck, a premier Japanese catering mobile located in the Tampa area. He took the time to chat with us about some of the main points to focus on for those aiming at Tampa Truck gold, which we once again thank him dearly for. Renny's experience has yielded some very intriguing points, highlighting the many harsh truths and mistakes he's learned from (such as over-ambitious menus) and the time and effort needed to stay a successful business. A lesson that anyone working in Trucks or Restaurants should always keep in mind (that's right, stop complaining brick-and-mortar, it's not a walk in the park over here either).
Question: First off, Tell me a bit about yourself and the Truck.
Renny: I was born in Iwakuni, Japan, to a Portuguese father and Chinese mother, and grew up on the southernmost Japanese island of Okinawa.   As a child, growing up on Okinawa, I remember being in the kitchen helping my Chinese grandmother prepare different dishes for dinner. I would always watch intently and ask questions about her recipes. Whenever I cook those dishes now, I try to reproduce the same wonderful flavors that my grandmother created.  I love to cook, and even more I love to see people enjoy my food.  I've always had a dream of opening a restaurant and sharing all the dishes that I love to cook.  A few years ago, my wife read an article about how food trucks were growing in popularity. We thought that would be a great venue for us to carry out our dream.   I was in the US Air Force for 20 years, I went back to college and got my nursing degree at age 50.  I worked for some years as a registered nurse and then decided it was time to pursue my dream of making food for a living.  In June of 2012, we launched Renny's Oki Doki.  We are happy to serve some of the best loved dishes from Okinawa in addition to other Asian flavors that reflect my heritage.
Q: How did you learn how to start a food truck in your area? Tell us about those early days figuring it all out in Tampa. Are there any resources you recommend for getting started or organizations that could help?
We started out asking a lot of questions of other food truck owners in the area.  We went to as many food truck events as we could and observed and then networked with those owners.  We were networking and putting down roots in the food truck community before we even bought our truck.  Once we got the business going, these fellow owners were invaluable to us in providing help, advice, and leads on jobs.  They remain our best and most loved resource.  The food truck owners for the most part area a tight knit group of like minded individuals that really look out for each other.  There is healthy competition, but genuine respect as well.
In the early days, it was trial and error as far as trying to figure out which events/venues to attend, how much food to buy and prepare.  We did a lot of lesser events and tended to "under price" our menu in the beginning.  We have since become very adept at figuring out our numbers and avoiding not so successful events.  We still get our share of 'busts" but they are less than they used to be.  We also have learned to simplify our menu.  You can't be all things to all people.  We have gotten too ambitious with our menus in the past and have really learned how to pare down and edit and not try to do too many things at once.
Q: What are some of the unique opportunities and challenges of operating a food truck in Tampa?
Unique opportunities in Tampa are that Tampa is centrally located to other geographical areas.  We take our business on the road and work within an approximate 50-60 mile range.  We go as far north as Tarpon Springs, Oldsmar, east to Lakeland, south to St. Petersburg Beach and Bradenton.  The Tampa Bay area has a booming craft beer movement and food trucks and craft beer tasting rooms are a perfect, symbiotic relationship.  We definitely bring new customers to each other.
The unique challenges in Tampa are that it is not food truck friendly as far as street parking.  We are not able to park downtown or on any public right of way.  We have to be parked on private property which means we either need to be invited to set up, or seek out businesses that are willing to allow us to park onsite.  This is where the "healthy competition" among food truck owners comes in.  There are only so many events in a month and all the trucks are doing their best to be included in the big events, and/or be able to park at the best establishments.
Q: Tampa must be quite the tourist city; how would you say that has affected the Food Truck scene/culture, and how should new Trucks navigate it to improve business or, at the very least, survive?
Tampa is a big tourist city and food trucks have become a part of the scene in many ways.  There is a nice outdoor bar in front of the Tampa Convention Center.  This bar often has food trucks set up outside.  The convention goers come out of their conventions and can sit and have a cocktail or beer, enjoy the beautiful water view and grab some inexpensive, high quality food in the process.  There is a "brew bus" that takes beer aficionados around the area to the different craft breweries — lots of tourists and locals enjoy the brew bus experience and also often find some delicious food trucks set up at each brewery.  We even have met a few tourists that sought us out when they have come to town — they have been to Okinawa, Japan and found out there is a food truck selling Okinawan food and tracked us down!
New trucks have to network with other trucks, that is so important and I cannot emphasize that enough.  Its the best way to get leads on jobs, to get good deals on equipment, food resources, opinions, etc.  Also, networking with key people that plan and organize events around town.  You have to be proactive to get the jobs, you can't just sit and wait for invitations to come to you.  Also social media is very important in maintaining relationships with your customers.  You may get new customers through Facebook or Twitter, but I find social media is more about engaging with the customers you have and want to keep.  And by all means consistent quality food is of the utmost importance, as well as creating and "experience" for the customers.  They can get good food in a variety of places.  Coming to a food truck is also about the experience.  People want to be engaged, they want to be remembered.  We have many regulars and we do our best to remember names as much as possible, or at least recognize the faces of returning customers.

Q: Navigating local regulations and codes is usually one of the most important and trickiest thing for any food truck. What particular regulations do you think should be really important to pay attention to in Tampa, and what sites and other local resources should new trucks go to find out about them?
In Tampa, we have a new association,
Gulf to Bay Food Truck Association

.
They are one resource that a new food truck owner should definitely seek out.  They can offer advice and point someone in the right direction.  We do as much as we can online now, but in the beginning you just have to do the foot work to get from point A to point B and obtain the city, state and county licensing as well as getting your truck inspected.  You have to keep up good safe food handling practices and also be inspected by the fire marshal periodically.  We are held to the same high standard as any quality restaurant.
Q: Are there any specific city regulations or requirements that you've seen overlooked by other owners in the past or frequently made mistakes?
Not so much here in Tampa, but we have found that when we travel to St Petersburg, they have a few different regulations and we know of some food truck operators that got hit with some fines for operating outside of the established rules.  It was not deliberate, but you still have to pay.  We now all benefitted from their mistakes because now we know!
Q: Are there any other common reasons you've seen Truck owners fail in Tampa? Succeed?
I think the most common reason food truck owners have failed is that they underestimated the amount of work and commitment that goes into this business.  If you go into it thinking its going to be easy money, you will be in for a rude awakening.  The business model is tough.  Unlike a restaurant that can recoup revenue with liquor sales or high priced desserts, food trucks don't have that ability.  And the public expectation is that food trucks are less expensive than a restaurant meal.  And that is understandable, but we do have expenses.  Insurance — both liability and auto coverage, worker's comp ( if you have more than 4 employees), sales tax, gas, propane, vendor fees (yes we usually end up paying a fee to promoters or event organizers to participate in the event — sometimes as high as 25% for a major city event).  A food truck operator can get burned out very quickly if they don't have help.  It is more than one person can manage — handling food operations, logistics, truck maintenance/repairs, generator repairs/maintenance, cleaning the truck, menu planning, taxes, bookkeeping, etc.  My wife ended up quitting her job to help me.  If she didn't do that, we would have folded a long time ago.  It would not have been profitable for me to pay someone to do what she is doing.  She is my sous chef, bookkeeper, secretary, booking agent, business manager.  You can have a wonderful chef and amazing food, but if you don't have a handle on everything else, and you burn out, you are done.
Q: Unlike where I am, the North, Tampa's climate is warm all year round, supposedly allowing for year-round business. Your thoughts on this? 
Our busy season is now…. we have a lot of events between Oct-April.  We stay busy in the summer, but here it is rainy in the summer, so events can be hit or miss.  And it is over 110 degrees on our truck in the summer.  We try to avoid using our fryer in the summer months and we use a lot of fans, frozen, wet towels on our necks are a God send!
Q: Finally, if you could give only one piece of advice for new food truck entrepreneurs, what would it be?
Be ready to work harder than you ever have in your life, and make sure this is your passion before you jump in.
ADDITIONAL RESOURCES & READING MATERIAL
Food Truck Record Broken – a fun article detailing an amazing success done by Tampa's trucks, truly showcasing how big the scene is here.
Tampa Food Cart Vending Permit Page
Parks and Rec Licenses and Permits Page