MEDICAL VEHICLE MANUFACTURER
And you thought we only did food trucks…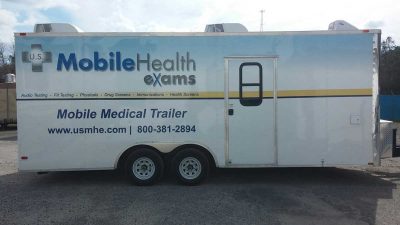 As a custom manufacturer, we can make any type of specialty vehicle, built to your specifications, designed for functionality and durability.
The Principles of High-Quality Manufacturing Do Not Change 
It does not matter whether you're a restaurateur with a food truck, a healthcare executive/practitioner with a mobile medical unit, or a public safety officer with a mobile command center.
What you need is three-fold:
Craftsmanship
Durability
Service
On Craftsmanship
At M&R Specialty Trailers & Trucks, we are 100% committed to quality. Our employees are true craftsmen, from those who design the trucks to those who build them. Co-owner Bob Pierson has decades of experience in the construction industry, and together with his co-owner and employees, the staff of M&R Specialty has more than 50 years in the business of manufacturing specialty vehicles. Every project begins with scaled blueprints, for your approval, before we start.
On Durability
As with our food trucks, we design and build our specialty vehicles – from mobile command centers for police officers to mobile medical units for nurses, doctors and dentists – to do what you require of them. Durability means not only using the right materials in fabrication, but also ensuring that every vehicle is designed and built to code.
On Service
Our commitment to you doesn't end after your vehicle leaves our manufacturing facility in Macclenny. Not only do we match our design/build process to your specifications – collaborating with you throughout the project – but we will continue to collaborate with you on regular maintenance and periodic enhancements or retrofits.
Our Specialty Vehicle Projects
Some of our recent projects include an RV converted to an eye care vehicle and a sound proof hearing exam trailer (video walk-through is located below). These were built to the same high standards as the food trucks that we've been building for years.
As a custom manufacturer, we can build any type of vehicle or trailer, fit to your needs, including:
Mobile medical units of all types
Mobile units for law enforcement
Public safety command centers
All Types of Mobile Medical Units
Our mobile units can accommodate virtually any type of medical/healthcare practice, including:
General family practice
Screening
Call M&R Specialty Today
Your business has the need. We will help fulfill it. Call 904-397-0246 today. We offer free consultations, complimentary quotes, and some of the highest-quality specialty truck manufacturing in the industry.