M&R Specialty Trailers and Trucks is rolling. The Macclenny based company is cooking up a thriving business of customizing food trucks and trailers. They have capitalized upon the public's insatiable appetite for mobile food, the steady online buzz, and the testimonies of satisfied customers – nearly tripling their annual revenue to $1 million within the last year.
Fed by reality television shows, social media, and a demand for increasingly creative trucks and food, the nation's street vendor market has grown into a $1 billion industry. Total revenue has increased by an average of more than eight percent annually since 2007, and will continue to rise steadily during the next five years, according to IBISWorld research.>
M&R typically builds three concession trucks or trailers per month, each at an average of $36,000. "We don't see that slowing down in the near future. If anything, it's picking up," noted co-owner Richard Willis. In an effort to keep up with their growth, M&R recently moved to a larger location. The flourishing company was backed by $500,000 in combined financing that they secured from 121 Financial Credit Union and the U.S. Small Business Administration, with assistance from Florida First Capital Finance Corporation. "These guys have a great thing going on and we wanted to work with them," said David Marovich, business account officer at 121 Financial Credit Union.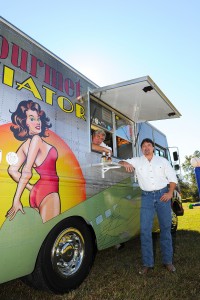 While business is booming now, things weren't always so great at M&R. The company built a reputation for quality over 15 years, but was beset by challenges at times. Bob Pierson acquired the company from its previous owners before the recession, when demand for trailers was strong because contractors needed trailers to keep up with the area's construction boom. But M&R was not thriving. "It was taking care of itself, but doing just enough." Pierson said.
Even after taking ownership, Pierson was not involved in day-to-day operations. A general contractor by trade, he focused on the home construction business instead. Then, about three years ago, a couple of local restaurants wanted to go mobile. With Willis' computer drafting skills and Pierson's construction experience, the M&R team drew up its first projects and set about completing them to their clients' exacting standards.
They quickly saw a market emerging for BBQ smokers, and concession trucks and trailers. "I started scratching my head thinking there must be something to this," said Pierson, who had owned several previous businesses.
Sensing an opportunity, Willis and Pierson began researching the mobile food industry and all of the building codes related to concession trucks and trailers. "Once we realized the potential, we started promoting it as best as we could," Willis said.
In July 2010, Pierson quit the construction industry to focus entirely on M&R and the burgeoning food truck business. "Thank goodness the industry of mobile food was just coming on and becoming popular – and had a presence online," he reflected. Willis used the company's website and online videos to generate projects. Then, satisfied customers helped to spread the word.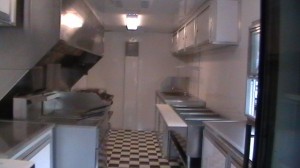 A feeding frenzy ensued. According to Pierson, M&R did more business in January 2011, than it did in all of 2010. While savvy marketing and the surging popularity of food trucks have helped draw potential buyers, the quality of M&R's work has been a base ingredient in the company's recent success.
Once M&R knows what kind of vehicle a client wants converted, Willis drafts the project in precise detail so that the customer sees exactly what they will get before they buy. "There are not two trucks alike," Pierson emphasized. He explained that every truck is customized to that client's specifications.
Pierson ensures that each truck is properly balanced, that the onboard equipment works, and that the project meets the client's expectations in every way possible. "For the customer to find one little problem bothers me to death," he explained.
Customers attest to the quality of M&R's work. In a testimonial on the company's website, Patrick O'Grady, owner of Driftwood BBQ in Macclenny, wrote that he consulted with three different contractors prior to ordering a concession trailer. "None of them were able to give us a clear plan prior to construction. It was not only the professionalism of M&R's proposal that got our attention, but also the genuine concern they held for our success."
M&R's customers vary. Owners might depend upon a single truck for their livelihood, or run a business with multiple trucks. They might renovate an old truck, or buy a new pickup truck and hook on a 32-foot trailer furnished with the latest equipment and amenities. "Someone has to be real serious to get into this business. It's not a commodity," Willis warned.
Still, the mobile food industry remains hot. In Northeast Florida, individuals and groups like Jax Truckies track the launches and movements of the area's food trucks via popular social media outlets like Twitter and Facebook. "It's a trending industry – which is great for us – and we hope that it stays that way for a while," Willis said.
M&R's recent projects have included a truck that serves coffee and cheese biscuits, and Jacksonville's first cupcake truck. "You have a wide variety of foods that people are getting involved in," Willis noted.
Willis and Pierson say that they would never have guessed that M&R would become involved in the mobile food industry, but they are certainly glad it did. "Because our talents were fitting into that industry, we naturally evolved into that industry," Willis said. Pierson, for his part, enjoys meeting today's construction challenges and looking ahead to tomorrow, knowing what projects he will be tackling with his team and how. "I love this business," he said. "I want to do it every day."
Opportunity Knocks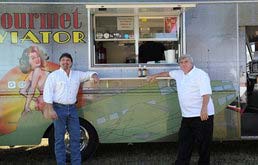 It started with a knock on Richard Willis' door five years ago.
Bob Pierson wanted to buy a Macclenny home that Willis owned as rental property. Not only did Willis sell the house to Pierson, he eventually became business partners with him in what is now M&R Specialty Trailers and Trucks, a fast-growing company that has capitalized on the skyrocketing popularity of food trucks.
When they first met, Pierson owned M&R Trailers, but was not involved in its operations. He was building homes instead. With online marketing skills and a background in computers, Willis agreed to help promote M&R – for free – with the understanding that if the company grew, he would become a co-owner with Pierson.
Originally, M&R was primarily making utility trailers. But in early 2010, after it helped a few local companies get started in the mobile food business, Willis began focusing M&R's website and online videos on building concession trucks and trailers. "We happened to get involved with it at the right time and it has grown for us," he said.
M&R has thrived, along with the $1 billion mobile food industry, largely because its owners have leveraged their core talents, with assistance from office manager Joe Gardner, who coordinates their work. A computer engineer, Willis drafts detailed project plans and prepares proposals for prospective buyers. Pierson uses more than 40 years of construction experience to purchase materials and complete the projects, ensuring they meet building and health codes.
By the end of 2011, the company's concession business had grown so large that Pierson could fulfill his promise to Willis. The newly formed M&R Specialty Trailers and Trucks launched in January 2012. Each partner owns 50 percent.
The men are partners in practice as much as on paper. Pierson, 67, said that as a veteran business owner, he is more apt to be conservative when it comes to decision making, whereas the younger Willis tends to see more opportunities. In balancing each other, they often arrive "at the center," Pierson said. "I depend on him and I know he feels the same," Pierson noted. "Without that, you can't have a business."
Recipe for Success
M&R Specialty Trailers and Trucks has cooked up a hot business using the following recipe:
Mix:
1 – Seasoned business owner with construction experience
1 – High-potential business partner proficient in computer-aided design and online marketing
1 – SBA-backed loan from community credit union
Cook in pre-heated food-truck industry. Serve to customers across the country.
When is a 15-year-old company considered to be a startup?

When it is relaunching as a business partnership, seeking financing to support its expansion into an emerging market.
Bob Pierson had been the sole owner of M&R Trailers for several years, but he launched M&R Specialty Trailers and Trucks as of January 1, 2012, with Richard Willis as a 50 percent owner. The new company was the culmination of an agreement that Willis and Pierson had made after they met in 2007. Willis had agreed to help Pierson promote his trailer business online for free, with the understanding that they would become co-owners if it took off; and it did, when the company began building concession trucks and trailers.
But when M&R wanted to buy a 12,000 square-foot warehouse in Macclenny, and convert it into its offices and manufacturing facility, it had difficulty acquiring financing. The bank that owned the property offered to sell it, but eventually declined to finance the sale because of problems with previous borrowers.
So, Kristen Tackett of Florida First Capital Finance Corporation, an economic development company, connected M&R with David Marovich of 121 Financial Credit Union in Jacksonville. "121 Financial really helped us," Willis said.
Marovich would see firsthand how busy and cramped M&R's facility on 103rd Street in Jacksonville had become. "I could barely park my car there, they had so much business happening," he remembers.
Still, as a newly formed company, M&R was technically a startup, and the U.S. Small Business Administration's 504 Loan program, from which it was seeking financing, required that a business be operating for at least two years. Undeterred, Marovich dug deeper into the rapidly growing mobile food industry that M&R was serving, confirmed the quality and variety of food trucks that it was producing, and analyzed the effectiveness of the company's online marketing.
M&R eventually secured $500,000 in combined financing, including a $250,000 loan from 121 Financial Credit Union, $175,000 from the U.S. Small Business Administration's 504 Loan program, and $75,000 in personal and business cash. It used the proceeds to acquire, renovate, and equip the Macclenny facility so that it could keep pace with the increasing demand for food trucks.
"The ability to finance startups is a real need here and in communities across the state," said Tackett, a Florida First Capital vice president and loan officer for northeast Florida. "The 504 loan program presented the best financing solution for M&R because it offered them the maximum financing at the lowest cost for the longest term.
FULL CONCESSION QUOTE
Get a Detailed Quote for Your Custom Built Truck or Concession from M&R. Click the Button Below to Start the Process.