Here at M&R Trailers, we put a lot of time and effort into the work we do, focusing as much attention as we can into making quality products. We love nothing more than seeing our trucks, trailers, and bbq equipment at work out on the streets and in competitions. So it's an even greater pleasure to see our customers succeed and shine in their field, much like Jacksonville's own Super Food Truck. We wanted to catch up with them and their success, so we sat down with Richie Haugk to talk about their journey, truck, and where they're going.
Question: Thanks for talking with us Richie, great to have you back! Why don't we go down memory road a bit with how you guys started off in the industry?
Richie: I've been a chef my whole career, and I was really looking to start something small, always trying to do something to think big but with small aspects, and a Food Truck is the perfect way to do that. It's just a great way to get your food directly to the consumer, instead of, you know, going through the channels of working for someone else.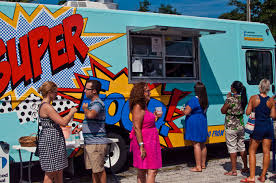 The concept is how I want America to eat; I thought about doing some of the more popular food trucks, that were maybe a little easier and popular, but I decided to go to the Super Food Theme, so that people get food of substance, not just eating cheese! There's super food all throughout our menu, on every item, some items are very good food and other items are more comforting, so we cover all items on them.
It's been quite a roller coaster, we were one of the first food trucks that started out in Jacksonville, there was really nobody to set the trails for us, so we had to figure out a lot of things on our own. The first year was definitely very difficult, a variety of things that go wrong on a daily basis, the second year was getting us picked up quite well, we started to become more educated to the food truck market as well as being able to iron out some kinks. So we were approached a lot more for business the second year, made things a lot easier with people trying to find it, and that just got the ball rolling.
Q: What decisions went into the build for your food truck, and how has it been treating you these past years?
Richie: I wanted to go with a regular food truck instead of a trailer, since it's a little more traditional, and then I didn't need to buy another truck to tow it around as well. So I did a traditional, and we bought our actual truck from Disney World, was pretty well taken care of, a good sized truck, then we basically figured out what kind of equipment we needed for the type of menu we were going to have. And then our trailer is designed around so everything works properly.
Q: So why go to Jacksonville?
Richie: This is where we grew up, when we were first looking at food trucks there was no trucks out whatsoever, and there was nowhere to eat at one when we began the adventure so there was nobody to model after. We wanted to kinda start out here, and there was just barely seed of an industry when we were beginning, so we wanted to help make it happen here in our own town instead of moving somewhere else to do it.
Q: To keep it simple, what's been some of your best moments or business successes since starting up? You worst?
Richie: Oh goodness! There's been some decent moments, let me see… I would say the best moments is the ending of this one park, when we had a very successful week, worked our tails off the entire week, but ended putting a lot of money into the bank and get over that hump. Also, the two weddings I've done, they were just great, flawless, had great reviews, and some of them ended up getting set up to other things, we really liked the reviews on them.
Some of the worst moments, man there's been a lot of them. The generator breaking down, definitely, the propane pipes busting. But the engine blowing, that was definitely the biggest, when it blew on the food truck. Luckily we were only down and out for a week though. M&R helped very much with all of these, in fact on the way back from doing an event at M&R Trailers our serpentine belt broke, and I wasn't that far from them. So I called them to see if they knew anybody for repair, unfortunately it was a Saturday afternoon so nobody could actually repair it on that day, but they towed my truck all the way back, put chains around the bumper and pulled it with their Ford 350. About a half an hour back, they kept it there overnight, got the belt fixed very cheap and it ended up not being a big deal at all.
Q: Anything you'd do differently?

Richie: No, I love it!
Q: I hear you're planning on going brick-and-mortar, tell us a bit about that project.
Richie: Yep, we happen to have an opportunity to move into a great location downtown, so we're super excited about doing that as well as the food truck for special events. But the restaurant has always kind of been a goal to achieve, so it's nice being able to pull it off.
Q: What's the process been like for that, especially after all the time on Food Truck-related concerns?
Richie: Well the process has been decent, it's always up and down, you never know what's next, you get money you have to tuck it away, it's not as easy-come easy-go. But you've got to work a lot of hours, don't get a high hourly wage (maybe like $8/hr).
I guess with the Food Truck it's been sort of a means to an end to build up the reputation for the restaurant, and the feeling is much higher at a restaurant because of the amount of volume you're able to do, alcohol sales, and different outlets you're able to do.
Q: So is this solely where you guys are looking to, or do you have a couple other near or far future plans on your mind?
Richie: Yeah I don't wanna give away all the secrets, but we're gonna have the food truck as well as the restaurant, and it looks like we're going to be taking over the space next to the restaurant right now, so there's already room for expansion right there. And then there's a couple other locations we're looking into downtown, as well as we're gonna be wanting to go to the beach somewhere in the future right now, a good demographic for our food style.
Q: Is there any particular piece of advice you'd like to impart on new owners getting into the mobile catering business?
Richie: Just be ready for the ups and downs of the mobile food industry. I don't recommend it for anybody who's not in the restaurant industry already, because it's already just a tremendous beast. And then add on to driving your kitchen to places… I just hope you're in the industry already and know what to expect. Service is actually the easiest time of the day, normally the rush should be the toughest!
We are very happy to hear of the stories and successes that SFT's has been able to garner, and are so proud to see our product being used in action by such an amazing team! M&R Trailers continue to wish them the best of luck in their future goals, and can't wait to hear back from them again!