First time entrepreneurs and long-time business owners alike are waking up to the opportunity of transforming shipping containers into full blown commercial kitchens. As you'll soon see in the examples below any food business you could want to operate including traditional diners, coffee shops, and fast food establishments are all possible with these structures. In fact, some adventurous individuals have even gone as far a to convert these containers into a permanent home.
Your imagination really is the limit when it comes to repurposing containers and we're confident your view of these seemly boring metal cubes will change by the end of this post.  Our goal with this article is to introduce you to the possibilities that are available using containers, but also educate on the dimensions and practicality of these boxes so you can determine if this is the right option for your situation.
Standard Container Sizes and Names
"Intermodal containers" as they are officially called go by a variety of names. Some folks refer to these as freight, ISO, or cargo containers as well. It's a ketchup versus catsup situation and they mean the exact same thing.
The original intent of these units was to easily transport goods from one place to another often between countries and overseas. These shipping units have remained largely unchanged for decades due to their ability to be easily moved from a boat, to a train, to a truck depending on the destination.
Freight containers come in many different sizes too. Standard length is 20 or 40 feet. Standard height is 8.5 feet or 9.5 feet. Due to the high ceilings of these cubes, it makes working or living in these spaces easy for just about anyone. These boxes are usually made from Steel due to the need to withstand worldwide shipping and protect goods.
Shipping Container Kitchen Versus Food Truck
One of the catalysts the increase in shipping container kitchens is due to mobility. A container can be move with relative ease anywhere you want compared to a restaurant. Got an open piece of land with electricity and plumbing? You can have a semi-truck drop off a container kitchen very easily and operate out of that fixed location.
The other attractive size of converting a container into a restaurant is size. A very good sized food trailer will be 18′ in length. This provides plenty of space to execute most food concepts, including BBQ, burgers, sushi and just about anything else you can think of. Compare that to a standard length over over two times the space with a container there's a lot more bells and whistles you can include in your eatery. Options to take advantage of the extra space include designing a bathroom, adding seats or booths for guests, or a larger kitchen so that you can cook and sell more menu items. This choice is yours!
Although you can transport mobile kitchens just about anywhere there's an electrical and plumbing hook up, it's not logistically realistic to move these around on a daily, weekly, or even monthly basis. If you plan to go to where the demand is a traditional food truck or trailer is the better option. Additionally, unless you have heavy lifting equipment like a forklift on hand, you'll need to hire out the work any time you want to move. So if you want to move from event to event this is not the right choice for you. However, if you want to establish a more brick-and-mortar style restaurant with a fixed location this can be an cost effective way to accomplish this.
Shipping Container Kitchen Examples
As displayed in the examples below container kitchens do not apply to restaurants or food startups only. They can work for the home owner as well. We think the curated photographs below does an excellent job demonstrating the different options are available.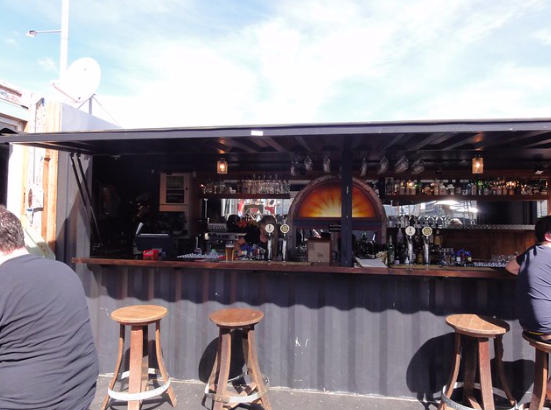 Photo Credit: Flickr  – Bottoms Up! Just about any food concept can be executed on shipping containers. One great example is this bar that includes over 5 different beers on draft and a full bar.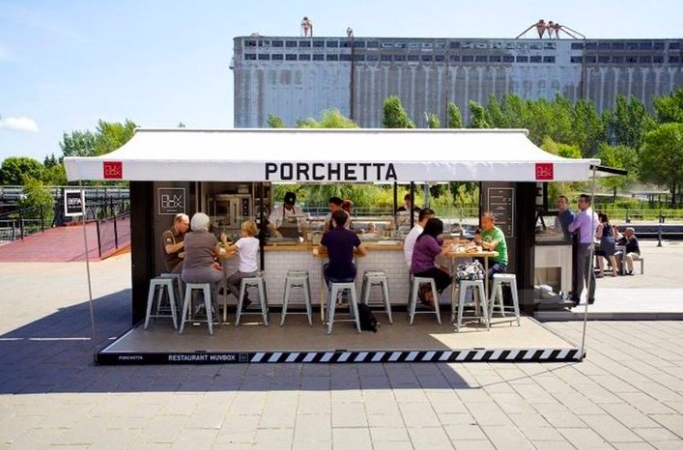 Photo Credit via HavingHome.com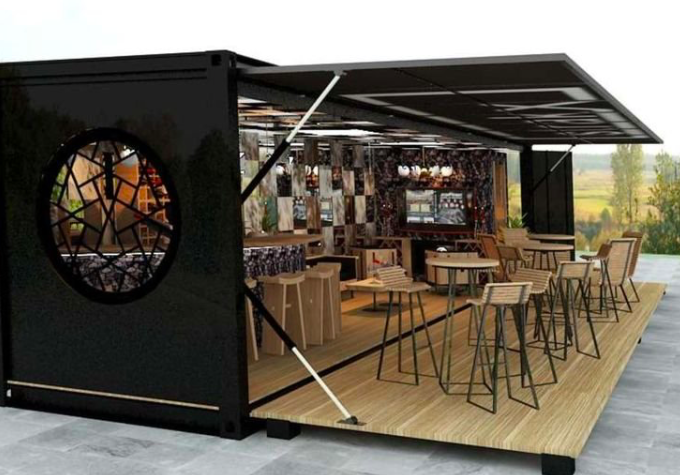 Photo Credit via HavingHome.com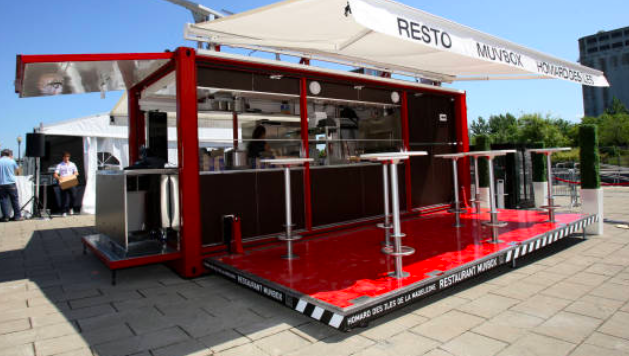 Photo Credit: Inhabit.com of the MuvBox fast food restaurant.