There's an age old debate that continues with food truck build outs: Where's the best place to install propane tanks? Some builders advocate for propane tanks to be installed horizontally in a protected compartment underneath your food truck. Others recommend that propane tanks should be installed vertically at the rear of the vehicle. As you may already be aware there are food trucks that actively operate with tanks in both locations. But what's the optimal way to install these units during the build-out process?
In this article, we share our insights learned over 15+ years in the concession industry. Over this time period, we had the pleasure of working on over 100 mobile food units and deeply understand the manufacturing process. In this post, we want to give you our perspective based on years of manufacturing experience to help you make the right decision for your unit.
Horizontally Installed Propane Tanks
Horizontally installed propane tanks located underneath the food truck are considered safer by some builders. The justification most frequently cited is that by having a tank installed in a protective compartment underneath the unit is protects the unit from being hit in the event of a vehicle accident.
Placement of the propane tank underneath the food truck is not without risks, however. By positioning the tank underneath the food truck it's more susceptible to hitting debris on the road. Even something as simple as a large speed bump in a parking lot has created problems for vendors.
There are other safety concerns beyond debris to be considered as well. When your propane tank is positioned underneath a food unit, it's less visible and harder to check for leaks. Vertically installed tanks, on the other hand, are fully visible and can be more easily inspected.  Finally… as with any build, confirm local guidelines in your area before having a propane tank installed as there are cities you won't pass code with this setup.
Vertically Installed Propane Tanks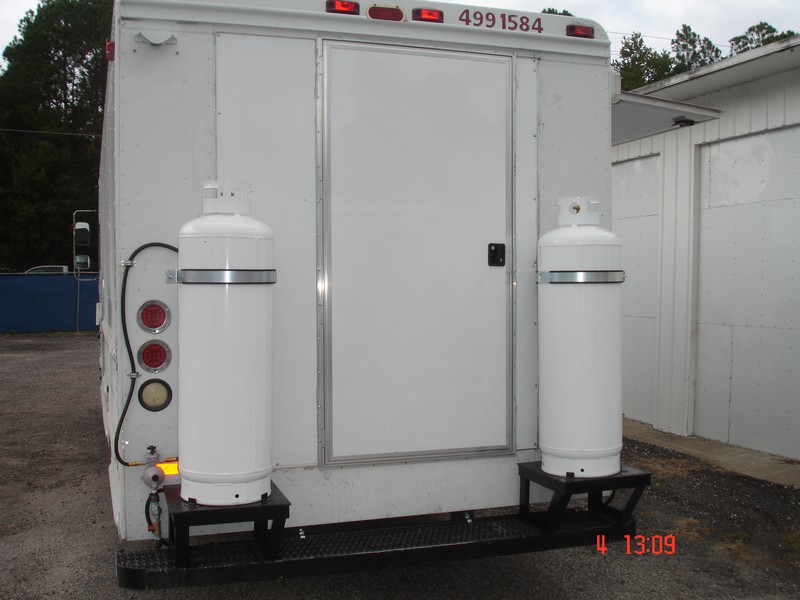 At M&R Specialty Trailers and Trucks, our standard build process is to vertically install tanks at the rear of the food truck. Of course, we are able to accomplish both for our customers. We install tanks this way for the reasons already described like being more visible for inspection and less likely to be hit due to road debris while traveling to events. But there are other benefits as well.
As your business grows and you get busier, you'll find that you'll need to refill your tanks with propane frequently. It's not at all uncommon for a food truck to need to replenish their tanks every 2 – 4 days. By installing the propane tanks vertically, it will be easier and faster to swap out or quick fill the tanks. This can be a major benefit to busy trucks that regularly need to refill their tanks.
Vertically installed tanks are also more affordable. A 100 pound tank will cost about $100. Horizontal tanks on the other hand will cost $250 – $300 per unit on average. We install two propane units per vehicle to ensure you've got plenty of available fuel.
But what about the safety standpoint? No food truck vendor wants to be at risk of other drivers on the road and having your propane tanks hit. We protect raising the propane tanks above the bumper level and extending the bumper at least six beyond propane tanks. This reduces the risk an automobile will hit your propane tanks in the event of an accident.

Related Items That Should Be Considered
Here are a few related items related to propane tanks and gas lines we believe are important to share in this piece. If you have any additional question about the installation of propane tanks on a mobile food unit or other food truck equipment installation tips, don't hesitate to contact us by email or phone at 904-397-0246. We're happy to answer questions no matter how specific. We look forward to speaking with you and learning more about your desired build.
The most common sized propane tank we install on food trucks is two 100 pound tanks. We find this size works well for most food truck vendors, but you should always consult your manufacturer to see if they have a different recommendation based on your menu or goals.
Tank Lines – Metal lines from inside the truck to outside. You've got to have high pressure lines from tank to regulator. Run metal lines, braided flexible lines rated for pressure on the tank. These are rated for increased temperature from the tank to regulator. Regulator to truck is hard metal piping. This a national requirement.
We always install a tank ring with a rubber gasket so that it does not hit metal. This comes standard with M&R Specialty Trailers and Trucks builds, but not standard standard for all manufacturers. Metal on metal is never a good situation longterm on a food truck.
We install a gauge inside all trucks to quickly check if you've lost pressure or have leaks from inside of the vehicle. This is a standard build feature that others don't have.
Every piece of cooking appliance has it's own individual shut off valve. This is a national requirement. Fire Suppression system needs to have it where it cuts the gas off at the gauge.
Our propane lines are certified by an independent third-party before being delivered to our customers to ensure the job was done right the first time.