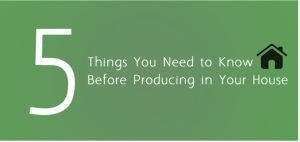 Want to start selling your Grandma's famous triple butter chocolate lava cakes to friends, family, and local retailers? Thinking about cranking them out in your home oven?
If that's you – give this post a thorough read. For many of you it may not be that easy. In the majority of states, health departments have placed stringent requirements on food produced in your home.
And that's only part of the problem. Let's take a look at a couple of other issues that may arise when you start producing for public consumption from your home kitchen.
1. State and Federal Health Regulations
This is the biggy – and the one you have to watch out for. You may not be able to produce your product in your house (even if it's legal to produce). For example, in Vermont, if you gross over $10,000 in sales as a food processor (like mustard, jam and jelly), you are regulated by the state. If you're under, it's free reign. But, that doesn't mean you're out of the woods. There's still labeling requirements, nutrition facts (if applicable) allergen concerns, etc. Make sure you do your research before setting up shop. Call your health department and they'd be more than willing to help out.
2. Storage Space – it's not just your kitchen
Your new business will take over your entire house. The dining room will be filled with boxes (not your fine china), the kitchen will be obviously littered with extra equipment and 50# bags of ingredients, and your bedroom will become your office where you store piles of paper. It's bound to happen, but it's my advice to let it happen. Renting space is overhead you simply don't need while you're launching your product.
3. Pets
While it's great to have your pet as a mascot for your company, Fido shouldn't be running around in your kitchen anytime you're producing. In fact, some states require you don't have any pets in your house. In Vermont, you can have pets, but they should be put outside while you're producing. We sent our poor pooch to the basement while we made energy bars. It's for your customer's safety. Who would want pet hair in their brownie? Certainly not me!
4. Strain on Work/Life Balance
Trying to find time to make dinner while also making 1,000 energy bars is not exactly the easiest thing to do. That's the situation I often found myself in. My parents and I would be baking through the evening and basically forget to have dinner. Also, conversations tend to revolve around the business, family ask tons of questions about your fledgling food company. Lastly, you might not be able to hang out with friends on Saturday night because your catering order is due for the next morning. Be prepared for one heck of a shift in your work/life balance.
5. Liability Insurance – yep, you need it!
You are producing a food product – something people are going to eat. This means you need product liability insurance. But don't worry! Many policies are around $500 a year and have $1mil in general liability coverage. Call up your local insurance agent (instead of an online broker). You'll be glad you did when you need something done quickly and professionally.
All in all, producing in your home is definitely a viable option if your state allows it. It's the best way to test-market your product to see if more than just your friends like it. If they do, think about growing out of your house and into a facility. As the blog progresses, we'll have more about facility choices and how to make the move. Plus, tons of personal stories!
What are some alternatives to cooking food out of your kitchen? You could invest in a food truck or rent out a commercial kitchen.
Have any questions about producing in your home? Leave them below and let's start a conversation.