A dental trailer is a type of mobile medical facility that provides dental care services. Dental trailers, unlike other mobile clinics, are outfitted with the same facilities and equipment that dentists utilize in their clinics. Its adaptability allows it to be used in remote areas where access to such services is difficult. These mobile dental trailers can also serve low-income neighborhoods, offices, consumers who are difficult to reach, and the elderly. The goal of this concept is to provide care to untapped residents of remote, rural areas. Patients who might otherwise have to journey a significant distance to see a dentist may benefit from this.
A movable dental customized clinic can have a variety of characteristics based on its layout. These characteristics make the clinic run more smoothly and efficiently. Material kind, security, ventilation system, and accessibility are just a few of the common components you'll need to consider.
If you're planning to invest in a dental trailer, we can help you build a unit that fits your needs at M&R Specialty Trailers and Trucks. Give us a call at 904-397-0246 or email us for a custom quote.
What Are The Benefits Of Mobile Dentistry?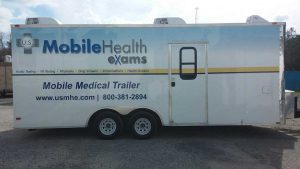 In essence, a mobile dental clinic is a moveable dental office. They're built like class A RVs or transportable trailers, albeit with compact exam rooms and dental equipment rather than household appliances and furniture. Despite the limited space in a mobile dental unit, you'll find practically much of what you need for basic dental treatments, such as sterilizing facilities, x-ray equipment, and computers to arrange consultations and manage insurance claims.
There are numerous advantages for new or existing dentists who want to expand their operations involving mobile dentistry or launch a fully mobile business.
1. Take advantage of a flexible schedule.
Dentists who work from home have more scheduling flexibility than those who operate in a typical office. You have the option of offering services at times that are most suitable for you.
Consider giving evening and weekend hours if you wish to keep your weekdays free for other activities. Alternatively, choose a segmented schedule that allows you to take time off when you need it while giving your patients a variety of appointment times to choose from.
2. Minimal initial investment.
When compared to the expense of opening a traditional dental office, the cost of setting up a mobile dentistry practice is significantly lower. Estimates say that a mobile unit and all essential equipment may be purchased for less than $40,000. The cost of operating a dental clinic, on the other hand, might easily approach $100,000 to $250,000. To most budding dentists, mobile dentistry is the most straightforward approach to establishing a dental practice.
3. Diversify your sources of income.
Putting all your eggs in one basket is rarely a good idea, but this is exactly what occurs when you start a dentistry business. Offering mobile dentistry services offers up a new revenue stream for your dental office. Unless something happened to your fixed office that caused it to be out of action for an extended length of time, such as a natural disaster or significant data breach, you might be able to function completely from your mobile practice while filing a business owner's claim and repairing the damage.
4. Ensure that underserved persons in your community have access to dental care.
Despite the fact that dental care is crucial for overall health, low-income families, the elderly, and other underprivileged individuals in your community frequently put it last on their priority list. Most employers no longer pay for dental insurance since it is considered optional, and workers may be unable to afford unsupplemented premiums. Adults are rarely covered by public health services such as Medicaid, and sometimes even minors are only given the bare minimum.
5. Develop your dental practice.
Having easier access to your patients who your practice has previously been unable to reach can drastically increase your client base. After starting their mobile dentistry unit, dentists that "go mobile" could discover that their new patient bookings begin to outnumber recalls rather rapidly.
How Much Does It Cost For A Dental Trailer Build?
Dental trailers are available in a variety of price ranges. This is due to the fact that it is influenced by a number of variables. For example, numerous conveniences might be included in the design of your dental trailer, enhancing its functionality. A dental trailer with basic components may differ from one with more complex components, resulting in a price differential. The price of a larger trailer will be more than the price of a smaller trailer. This is owing to the enormous volume of material produced and the design of the product.
The cost of your dental trailer is also determined by the manufacturer. Because there are so many producers, each one must come up with a pricing that is acceptable to the buyer. As a result, when making a purchase, manufacturers will present their best rates, which will vary from one manufacturer to the next. You can also bargain with them for a reasonable price. A dental trailer with a large number of pieces of equipment is more expensive than one with less. This is due to the fact that they are expensive as well as the process of installation.
Your trailer's pricing is also affected by its amenities. This is due to the fact that they expand the range of services available to patients while they wait for dental treatment. When compared to a dental trailer without these features, a dental trailer with amenities is likely to cost more.
For the cost to put up a mobile dental trailer, here's a rough estimate of how much you'd possibly shell out.
Trailer: $40,000 – $60,000
Build Out: $20,000 – $30,000
Dental Equipment: Variable depending on your needs.
What Equipment Can You Install On A Dental Trailer?
Pretty much all the same equipment you would see in a mobile dental trailer can be seen in a normal, fixed dentist office. It's crucial to remember when outfitting a new dental office that dental office equipment is mostly functional. You'll require storage for medical devices, sterile-keeping systems, and basic workhorse instruments that you'll employ on a daily basis in routine procedures.
The succeeding dental office inventory section lists some of the most fundamental essentials that you may miss but can't function without.
Computers. Equipment for storing digital information, presenting digital pictures, inputting patient information, downloading documents, and networking are all necessary for any dental office. Some offices even have tablets allowing visitors to enter personal information that is saved straight onto their digital file instead of filling out registration forms, while others have Internet-connected gadgets in their waiting rooms for amusement.
Storage. This is where you'll keep all of your materials and little devices to keep your practice running smoothly. Cabinets for storing extra things like gloves and gauze are essential in an operating room. Cabinets operate best when they're kept basic, making it simpler to access, lock, and maintain them.
Cabinets are often purchased from local cabinet makers or prefabricated ones purchased online.
Handpieces. Handpieces are helpful in any dental clinic, as they are used by hygienists and in both conventional and specialty dental operations. Whichever ones you choose — along with the type you choose — are primarily determined by the operations you offer. There are models that work at various speeds to achieve a range of functions, as well as those that are built particularly for a single function.
Chairs. The primary structure of just about any dental office is perhaps a patient chair. You need a chair that is comfy to both you and the patient, in most cases. Interchangeable upholstery helps increase the lifespan of a chair by allowing you to replace fabric coverings rather than full chair components, allowing dentists more movement. An excellent chair can last a practice's whole career.
Lighting. To see within a patient's mouth, operators require bright, fixated dental lamps — LED lighting or halogen works well — as well as area illumination for broader visibility. Ambient lighting is also a good choice for waiting areas and reception spaces, and natural light may help your office feel more open, airy, and comfortable.
Harnessing light to your benefit can make treatments go more smoothly while also making your patients feel more at ease in your office.
Waiting Area. The waiting area is a great spot to make a great first impression when it comes to outfitting your dental office. Make a difference with furnishings that are either clean and sophisticated, warm and inviting or something in between. Utilizing tokens obtained from the front desk, children can enjoy a mechanical horse at one pediatric dentist. Aquariums, plants, the view outside—whatever your waiting room's environment is, contributes to a sense of comfort and trust.
Service Equipment. Air pressure, sterilizing steam, and other useful services are provided by utility equipment, which keeps your dental business functioning efficiently. It could include, among other things, lubricated and oil-free dental compressors, amalgam separators, separation tanks, vacuums, and utility control centers.
Disinfection Equipment. In order to avoid cross-contamination in your operating rooms, you'll need sterilization equipment. An autoclave, which sterilizes equipment with pressurized steam or dry heat, is one of the most significant pieces of sterilizing equipment. Certain autoclaves could also keep track of your infection control protocols, which is a useful function.
Apart from autoclaves, strong disinfectants, ordinary cleaning materials, and, of course, soap is available.
X-Ray. Digital X-ray technology is now used by dental offices to exchange and store images amongst their patients. Intraoral X-ray sensors (as an alternative for film X-rays), phosphor plate X-ray systems, digital panoramic X-rays, and digital imaging applications to function as a management hub for managing digital files are some of the items you may wish to invest in.
Scrub Suits. Scrubs are one of the many items that might assist your dental office in maintaining a consistent appearance. An excellent method to tackle this would be to give your employees an annual uniform budget and a certain style and color guidelines.
Consumables. When executing any operation where there would be a potential of spray or spatter, employees must wear personal protection equipment. Protective eye shields should be kept on hand in combination with nitrile gloves and surgical masks.
What Kind Of Services Can You Offer On A Mobile Dental Trailer?
A movable dental trailer could provide a variety of services. Dental care, preventative healthcare, and chronic conditions diagnosis and administration are all available through the mobile dental services paradigm. Periodontal exams, training, and dental fillings are some of the services provided by mobile dental services. Root canals and dental surgery are two therapies that a mobile program rarely offers.
Some of the services that a mobile dental trailer can provide can include:
1. Periodontics – Periodontics is a dentistry specialty that focuses solely on the inflammatory condition that causes the gums as well as other supporting structures around the teeth to deteriorate. A periodontist is a dentist that specializes in periodontal disease prevention, diagnosis, and treatment, as well as dental implant implantation.
2. Prosthetics (dentures, crowns, and bridges) – A dental prosthesis is in itself an intraoral (within the mouth) prosthesis that is used to correct (reconstruct) intraoral anomalies such as lacking teeth, missing teeth components, and absent soft or hard elements of the jaw and palate. The dental specialty of prosthodontics is concerned with dental prostheses.
3. Pediatric Dentistry – Pediatric dentistry deals with children from infancy to adolescence. The American Dental Association, the Royal College of Dentists of Canada, and the Royal Australasian College of Dental Surgeons all acknowledge pediatric dentistry as a distinct specialty. Pediatric dentists enhance children's dental health while simultaneously educating parents.
4. Oral Surgery – Oral surgery (also known as dental surgery) is a term used to describe a variety of medical treatments that include artificially altering the dentition, or the teeth, gums, and jawbones.
5. Aesthetic Dentistry – Aesthetic dentistry employs current medical treatments to provide patients with a much more natural, healthy appearance. Aesthetic dentists employ procedures such as frequent cleanings, root canal therapy, and fillings or bridges to restore your teeth to a normal and healthy appearance.
6. Restorative Dentistry – Any dental operation that restores or replaces a tooth is referred to as restorative dentistry. Cavity fillings, root canals, and even dental implants are all examples of restorative procedures. Restorative dentistry can have two main objectives: restoring the functionality of the teeth and restoring the aesthetics of the teeth. It's either one or the other in certain circumstances, and it's both in others.
7. Implantology – Implantology is a discipline of dentistry concerned with the permanent placement of prosthetic teeth in the jaw. Once it is established that a natural tooth should be replaced, dental implants are placed utilizing the procedure outlined below.
8. Endodontics – Endodontics is the discipline of dentistry that deals with the dental pulp and tissues that surround a tooth's roots. Endodontic treatment, often known as root canal treatment, is the treatment of the delicate pulp tissue within the tooth. "Endo" means "inside," and "odont" means "tooth." A dentist who specializes in tooth preservation is known as an endodontist.
9. Orthodontics (braces) – Malocclusion is a disorder wherein the teeth are not properly aligned once the mouth is closed. Orthodontics is a discipline of dentistry that addresses this. As a result, the bite will be incorrect. Straightening teeth is the specialty of an orthodontist. Treatment may be cosmetic in nature, with the goal of improving a person's appearance, but it frequently also strives to improve oral function.