A mobile blood drive trailer sometimes referred to as a bloodmobile, is a vehicle (typically a bus, trailer, or a large van) that's fully outfitted for a blood donations. Bloodmobile blood drives are typically held in public settings such as colleges, churches, parking lots, or offices.
Large corporations frequently sponsor mobile blood drives and provide staff time off to donate blood. Furthermore, many high schools host annual blood drives that allow students aged 16 and up to donate blood with the completion of a signed consent form. As a reward, students are usually given food, T-shirts, or time off of class, as well as positive peer pressure.
If you need a custom-built mobile trailer for your hospital, clinic, or charity, contact us here or call 904-397-0246. We provide free quotes on a mobile medical builds.
How Much Will It Cost To Build A Mobile Blood Drive Trailer?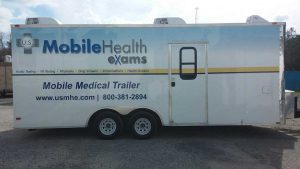 Around 12 – 14 individuals can be accommodated within a conventional bloodmobile with sufficient space for walking and moving. Each item of furniture and equipment can be customized to be as efficient as possible. Donor chairs can be made thinner while yet being large enough to accommodate people of various sizes and weights. The blood donors' chairs are offset from one another, allowing for more room surrounding them. The way each door closes is another space saver. Some even have bi-folding doors that fold halfway open, similar to closet doors.
There isn't a lot of information available on how much a standard mobile blood drive trailer costs. Given the equipment and furniture required to set up mobile blood drive trailers, some estimates suggest that a typical buildout may cost between $100,000 – $300,000 to develop and finish.
What Equipment Can You Install In A Mobile Blood Drive Trailer?
Mobile blood drive trailers or bloodmobiles are an important means of making blood donation as straightforward as possible. You may dramatically increase your reach and collect enough blood supplies to save lives by taking the equipment directly to your donors.
In today's world, where convenience is paramount, bloodmobiles are an invaluable tool. The truck allows physical healthcare facilities to bring their blood donation equipment directly to the public. These automobiles are frequently parked outside of businesses, at colleges or public universities, churches, and high schools, among other places. They might offer extra perks like class credit, time off work, or free meals to entice donors to attend.
Each client should engage with a firm that enables them to participate in the design of the ideal workspace for their employees and customers. Selectable extras, sometimes including private screening spaces and specialized floor layouts that optimize floor space, are frequently included in the design of bloodmobiles. Microwaves, refrigerators, and other conveniences for employees may also be included. It's critical that the van has adequate room to accommodate all of the equipment needed for a particular blood drive.
Some of the essential equipment every mobile trailer should include are the following:
Collection Monitor – During the blood collection process, a Blood Collection Monitor is helpful in collecting correct blood. Between 350 and 450 milliliters of blood are taken. The electronic Blood Collection Monitor is a small yet effective device. This is used to produce a homogenous mixture by providing smooth and moderate stirring of blood with anticoagulant contained within the blood bag. The procedure aids in the prevention of cell clotting during the collection of blood from a donor.
Blood Tube Sealer – The Blood Tube Sealer seals a blood bag tube without generating hemolysis or blood leakage. The seal is quite large and may be removed or torn apart with little or no effort. Blood tube sealers have a unique characteristic called a broad Tear Seal. The bag is sealed with 20 watts of RF power. Once the tube is inserted between the sealing electrode and the sensor, the sealing process is automatically enabled.
Blood Donor Chair – A blood donor chair is used for a variety of purposes, including blood collection and donation. The donor couch can be adjusted in a variety of ways. The chair is usually composed of CRCA steel that has been powder coated with antibacterial properties. In addition, a high-quality vinyl covering is employed. The PU foam is free of CFCs and HCFCs. The chair is UL approved, and the arm may swivel as well. The arms of the donor chair can be halted at any point in the middle, depending on the donor's abdomen and waist.
Blood Bank Refrigerator – The blood bank refrigerator is an important piece of equipment in the immunohematology division since it ensures that blood is kept cool and secure.
Whole blood, blood components (e.g., blood cells, plasma), and reagents can all be stored in a convenient manner. Preservation and quality of blood and its components are ensured by blood bank refrigerators.
Refrigerated Centrifuge – A refrigerated centrifuge is a piece of scientific equipment used to separate temperature-sensitive heterogeneous compounds or materials in microliters. The specimens put in a rotor are spun at a high speed using this equipment. It goes through a centrifugation procedure, which involves the isolation of particles or macromolecules using centrifugal force.
Laminar Air Flow Cabin – In cell culture experiments, a laminar airflow cabin is utilized to provide a sterile environment that secures both the specimens and the crew. It might be vertical or horizontal.
Plasma Freezer – The plasma freezer's job is to keep fresh frozen plasma, red cells, and platelet concentrates safe by providing and maintaining a freezing temperature of -30 or -40 °C. The operating temperature of a refrigerator and a freezer is what distinguishes them. A plasma freezer is a simple machine that works in a similar way to the refrigeration cycle, though at a lower temperature.
Ultra Low-Temperature Freezer – An ultra-low temperature (ULT) freezer is a refrigerator that keeps specimens at temperatures ranging from 40 to 86 degrees Celsius (40 to 123 degrees Fahrenheit). A "minus 80 freezer" or a "negative 80 freezer" is a term used to describe an ultra low-temperature freezer that refers to the most common temperature standard. ULT freezers are available in upright and chest freezer configurations.
Data Logger – Temperature data loggers, which are commonly found in hospitals and healthcare facilities, monitor and track the temperature of blood bank refrigerators, freezers, and general storage spaces. The proper management of blood and its components depends on maintaining proper temperature conditions and adhering to them consistently. The technology for regulating the temperature of blood cold chain devices has advanced dramatically in recent years.
Blood Bank Management System – The Blood Bank Management System (BBMS) is a web-based program that helps with blood bag information while it is being handled in the blood bank. The user of this software can enter the results of blood tests that have been performed on every blood bag which has been collected by the blood bank. The outcome of the test will determine whether or not the blood bag can be administered to the patient.
Plasma Expressor – The Plasma Extractor is used to collect blood components from centrifuged bags. This is common in hospitals, blood banks, and other places. The strength of the plasma-separating clip allows distinct elements of blood to be extruded from top to bottom once the plasma in the blood bags has been stacked.
ELISA Reader – Color variations in the 12 wells of the plate are measured and quantified using an ELISA reader. Spectrophotometry is performed by ELISA readers or microplate readers, which emit a single wavelength of light and quantify the amount of light absorbed and reflected by a target object such as a protein. A spectrophotometer is a device that measures the wavelengths of ultraviolet and visible light.
The fluorescence and brightness of ELISA plate readers can also be measured. Once exposed to light, chemical dyes fluoresce, emitting a single hue or wavelength. A substance's quantity is determined by the amount of reflection, absorption, and color.
What's The Process For Hosting A Blood Drive?
Holding a blood drive is a fantastic opportunity to have your organization, whether it's a school, company, or house of worship, more engaged in the community. It's also a terrific way to establish a reputation as a group that looks beyond itself and cares about people in need.
"Donate blood, save lives", is a mantra we've all seen before. Only a pint of blood could save up to 3 lives, according to the American Red Cross. More than six million individuals donate blood in the United States each year, and what a great opportunity to boost that number than to host a blood drive in your neighborhood?
You'll also be offering a tremendous service to your colleagues or clients by allowing them to be a part of a worthwhile cause without committing a lot of time.
Do you want to arrange a blood drive but don't know where to start? Here are some pointers you need to remember before, during, and after your intended blood donation drive.
Prior To The Blood Drive
Reach the charity you'll be collaborating with at least three to five weeks (much sooner is best) prior to the scheduled time you intend to conduct a blood drive to discover a suitable venue and day. Make preparations to tell the group how many employees you intend to volunteer, as well as a goal you're aiming for.
To encourage individuals to donate blood, hold an educational session about two weeks prior to the day of your blood drive. The event should inform potential donors about the value of blood donation and the number of individuals who rely on it. The quintessential aim is to raise awareness and urge others to participate in helping.
Make it clear to personnel as well as other volunteers that they must check their eligibility for blood donation and that they should be aware of what to anticipate while donating blood, other than how much time it takes or what the entire process entails.
Give out notifications to your possible participants about the blood drive a few days before everything takes place, including the day and time of their session. Provide recommendations like obtaining a decent night's rest, drinking the right amount of water, and eating the right food an hour or two prior to their scheduled appointment to help them prepare for a smooth blood donation.
Assuming your schedule is filled, create a standby list of donors to call. If there are any no-shows, such donors will be notified during the day of the blood drive.
During The Blood Drive
Warmly welcome your volunteers, and ensure that everybody is aware of their responsibilities.
Place signs throughout the grounds to ensure that participants and donors do not become disoriented.
Put in place a reception counter so that volunteers can keep track of contributors and schedules in one place.
A refreshment table should be set up. Although it may not appear to be necessary, it would be. Following donating blood, many blood donors seem weak or dizzy and require iron-rich liquids to rehydrate.
Maintain a participant schedule to ensure that the registration and beverage stations are never left unattended.
Following the Blood Drive
Check out how you performed in comparison to your target by getting your blood drive outcomes from the person at the organization you collaborated with.
Acknowledge your participants and donors for their assistance and support by sharing the results of your blood drive with them.
During the 1950s, the American Red Cross operated mobile blood units which allowed people to donate blood in their communities. A huge Red Cross truck manned by two men emerged at an empty spot and set up for the very first donation, which was collected 2 hours later.
At least 10 beds, dozens of screens and chairs, mattresses, tables, waste receptacles, huge refrigerated boxes, boxes of sterile supplies, orange juice, coffee urns, stools, hundreds of blood bottles, canvas bags of ice, bottles of solution, sheets, oxygen tanks, literature and record forms, and canteen equipment would all be loaded onto the truck. In less than an hour, the crew would have things unloaded and put up on site.