Have you ever wondered what law enforcement personnel do when a murder weapon, a piece of incriminating evidence, or even a body is found beneath a body of water such as a lake? In situations like these, law enforcement utilizes dive response vehicles to bring underwater equipment to a crime scene.
Where dives are conducted with limited visibility, and current flow, or in cramped locations like caves and shipwrecks, or where the diver is wearing breathing apparatus that produces minimal bubbles, such as a rebreather, it may be challenging for the diver to find a piece of evidence underwater. Depending on the surface variables of wind, waves, spray, fog, or darkness, it could be challenging to observe the bubbles even when open circuit equipment is employed.
This is where dive response vehicles would be most useful. All the equipment an investigative dive requires can be installed into one of these emergency units, including oxygen tanks, scuba diving equipment, and portable illumination. A decontamination room and shower can also be installed on these units to the convenience and safety of divers. Let's dive more in-depth into how a dive response vehicle can support law enforcement.
If you need a custom dive response vehicle built, give us a call at 904-397-0246 to discuss your goals. At M&R Specialty Trailers and Trucks, we build emergency response vehicles of all kinds for law enforcement and fire departments.
What are dive response vehicles?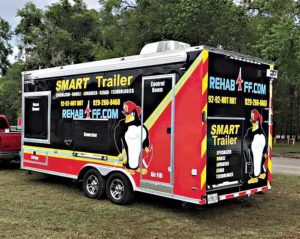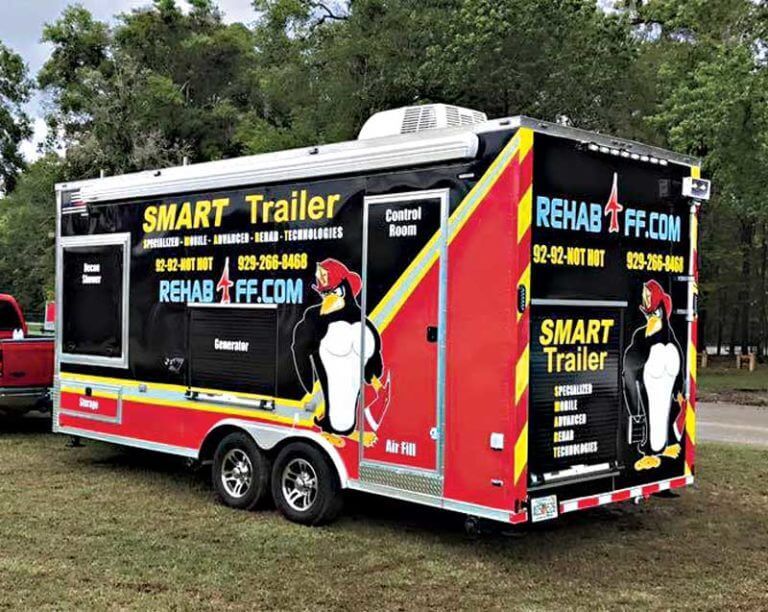 In order to respond to special operations, law enforcement organizations use dive response vehicles, sometimes referred to as emergency response vehicles or underwater recovery units. Dive response trucks may be equipped with salvage/overhaul tools, power winches, portable illumination, decontamination stations, and much more. When developing and manufacturing diving response vehicles, the requirements of each department of law enforcement are taken into account.
What equipment can be installed in a dive response vehicle?
Divers rarely face emergencies when they adhere to accepted safety procedures, dive in settings for which they have received training, and dive to the limits of their knowledge, experience, and physical capabilities. A backup light, an emergency lighting system, for instance, a glow stick (commonly referred to as a Cyalume or chemical light stick), and a surface strobe should always be carried by divers taking part in night or low-visibility dives. Other than a glow stick, here's a list of other equipment that can be included in a dive response vehicle.
1. Shelf System – The shelf is normally made of aluminum for simple and secure equipment storage, as well as serving as a holding bar for diving suits and emergency gear.
2. Equipment Holding Station – An AED (defibrillator), a fire extinguisher, an emergency backpack, helmets, and other necessary supplies can be stored in the holding station in case of emergencies.
3. Folding Table – The foldable table transforms into a compact workspace. Radios and battery-operated lights that are ready to use and loaded onto charging holders can be a part of the setup.
4. Cargo Area – A dive response vehicle must have a cargo space since it stores necessary gear for this setup. A clothes rail with a drip pan and a water drain, as well as a shelf for heavy equipment like an inflatable raft or roll-up stretcher, among other things, may be included in the cargo space. Additional equipment, such as powerful pull-out LED work lights powered by batteries, can be stored on a different shelf.
5. Nautilus Lifeline – A more recent piece of safety gear that includes a small, waterproof maritime VHF radio with GPS locate technology built in that may be used in the water while on the surface. A diver can simply press the Lifeline button to transmit an alert message with his precise GPS location to boats within several kilometers if no boat is visible upon resurfacing (up to 12 miles in ideal conditions). The Lifeline can be used as an emergency signaling and communication tool for divers and operators of small watercraft because it is waterproof up to a depth of 425 feet.
6. Cutting Tool – In an entanglement emergency, a cutting tool is likely the simplest and most cost-effective piece of safety gear that could mean the difference between drowning and survival. Cutting equipment comes in a number of forms, such as diving knives, line cutters, and dive shears. Shears can assist divers in removing a wetsuit from a seriously injured diver in a first-aid scenario in addition to assisting divers to escape from entanglement.
7. Dive First Aid Kits – For treating accidents that occur on or in the water, dive first aid supplies are critical. To keep them safe from the humid climate, first aid equipment should be stored in waterproof cases. Remote diving expeditions necessitate larger first aid supplies. For the on-site treatment of submersion injuries and decompression illnesses, oxygen units are crucial. The likelihood of survival is increased by the presence of an automated external defibrillator (AED) at the dive site or on the dive boat. A sudden cardiac arrest is a common cause of dive fatalities.
What are some situations a dive response vehicle can help?
Anyone performing a diving project must make sure they are ready for emergencies. It is advisable to create written emergency plans, maintain them on-site, and provide personnel with training on how to use them. There are certain situations where a dive response vehicle would be useful not just in evidence retrieval but in other emergency response situations. The following are some cases wherein a dive response can help.
First Aid
Having a first aid kit available at a dive site can mean life or death in most situations. A person lacking oxygen for as brief as three minutes can cause permanent brain damage. In an emergency, it's crucial to have access to enough oxygen to treat the injured individual while also considering the dive site's location and the proximity to medical services. Additionally, unless it is not reasonably practical to do so, an automated external defibrillator (AED) and qualified operator should be accessible on the boat or at the dive site. The AED needs to be prominently marked, easy to find, and well-maintained.
Evacuation
There should be a strategy in place that details how interaction with any emergency services will be kept open in the case of an evacuation. Any evacuation procedure should guarantee the efficient and prompt transfer of a wounded person from the event site to emergency or other medical services, as well as the continuation of first aid. The care of people with decompression sickness and barotrauma should be handled with special caution. Any individuals, vehicles, or aircraft involved in an evacuation should all be protected in some way.
Missing Persons / Evidence Retrieval
This is the primary function of a dive response vehicle. As stated earlier, dive response vehicles are used by law enforcement agencies in situations such as retrieval of evidence operations which may include missing persons or even objects that may constitute a crime. A dive response vehicle is better equipped to navigate the murky waters of a lake than simply being handled by scuba divers. There have been numerous documented cases wherein dive response vehicles were used in retrieving vehicles wherein the occupant/driver were reported missing for years or part of cold cases for decades.
Rescue
Other than utilizing a dive response vehicle for evidence retrieval, it can also be used as a means of performing rescue missions. Just like acting as a first aid vessel, a dive response vehicle unit should also have personnel who have professional training in rescue operations. Dive response vehicles should basically contain rescue equipment such as floatation devices, and throw ropes, as well as a striking tool that could be useful in shattering glass in submerged vehicles.
No matter what equipment you need installed in your dive unit, we can help. Contact us here for to book a free consultation. We always provide free no-obligation blue prints with every design for military, fire departments, and law enforcement. Click here to learn more about our specialty units and medical vehicles.