The life of food trucks has led to some amazing innovations and unique ideas within the world of cuisine; new owners live out their long-held business fantasies, young entrepreneurs use the chance to try out new techniques and interesting food combinations. Whether it's been to explore new areas or simply make their food more mobile, us lovers of the edible have never complained about these developments. Despite the many different options and trucks that have sprung up, however, there still remains a veritable army of owners that stick with certain familiar menus. For much like with restaurants, even if we may drool over the fanciest of fares and most contemporary, unique twisting of flavor, there will always be those times where we just want a burger, or a taco, or whatever.
Put simply, there are classic styles and strategies that live to survive in every food business. These are the ones that started the trend, hit our comfort food spots, or are simply the options we instinctively go to when feeling lazy. Food Trucks are of course no exception, gathering up a particular set of businesses that we can see in almost every city. Here we offer a list of these most common and delectable mobile cravings which we've all come to love.
Taco Trailer
The originator of all things food truck in the United States (not counting New York's famous hot dog carts), and in more ways than one. Having garnered much love and attention through the years, taco trucks still provide the basis for a plethora of new owners, whether they're looking for an easily recognizeable mobile package to fill with their unique creations, or simply stepping back to display the love of the food they grew up on. You could easily say there are two main groups in this category, each just as important in their own ways.
Traditional Trucks
Truly the very first class of food trailers and trucks to hit the streets here. There's no gimmicks, no flashy name or expressed need to wow the customer with something new and unique (usually). These are the simply adorned, often plain-looking vehicles, maybe with an odd looking mascot on the side, shelving out classic masa tortillas filled with a variety of grilled and cooked meat that one expects to see from a cart in Mexico. They're cheap, delicious, and often are one of the few businesses that give us the option for stewed skin, tripe, animal cheek/maw, and other 'specialty cuts' which tend to gross most folks out. But those people are just weak, WEAK! The rest of us revel in the savory, soul-filling latin street fair.
Example: Tacos La Fonda in Los Angelas
Fusion/Contemporary Taco Trucks
Though the traditional style may have been the first trucks to hit the street, it's likely the fusion trucks that started boosting interest and awareness in this new trend. Who now hasn't heard of some Korean/Asian-Latin fusion truck, filling copious tacos and burritos with oriental chile-spiced pork and short ribs. And it doesn't stop there, one can easily look and find trucks that fill their tacos with Indian, Italian, French, classic US ingredients, not to mention the many Fish Tacos, and a whole buttload of trucks that just fill their menus with who knows how many different fillings, familiar and not. These are the jazzed up forerunners of our food truck world, having begun the trail of innovation whilst offering delicious, palate-teasing options in tortilla packages (masa, flour, corn, you name it). They aren't usually as cheap as the traditional, but one can find more versatility and trendy excitement to hit their current cravings.
Example: Seoul Taco in St. Louis
Hamburger and Slider Truck
Whether they're thick, flat, stuffed, or stacked; piled with the oddest of ingredients, more meat, or a simple slice of tomato and cheese; put between sesame seed, pretzel, or English muffin bun; the fact of the matter remains, we just can't seem to get enough of the gloriously grilled ground meat patty that is the burger can we? They're featured in restaurants across the country, from the simplest dives to the fanciest Vegas hotels, so it only makes sense that they've graced the truck scene to such a similar degree. Sliders are popular in almost every sort as a more portable version, but despite the mess the bigger burger trucks still garner excess popularity with their juicy, savory sandwiches. There are of course different styles (my own city has one purely evocative of the old 50's diner burger, but with cooky toppings, superimposed next to one that's completely thick meat-focused, pretzel bun monsters), but the focal point is always the same.
Example: Baby's Badass Burgers in Los Angelas (and other locations)
Hot Dog Cart
Well, hot dog and Sausage cart. These vendors often display the heights of portability, both in their own tiny carts able to move to any street corner (within permit regulations of course), as well as they highly ease-of-consumption food that is the classically encased sausage stuffed between a hot dog bun. Highly classic wiener carts are still seen to much acclaim, and have bolstered many franchise opportunities for people to start their own small business and make their own happy living career. However, there's also been quite the emergence since the truck-craze started of contemporary, hand-made wieners and sausages by individual entrepreneurs and restaurants alike. Often offered with their own homemade pickles, mustards, ketchup and other condiments, perhaps with a side of their own hand-fried potato chips (this is making me hungry, wish the sausage cart that's in my city was closer), these have offered a new height to the experience. Of course, not all dog-based businesses keep small; some still vend from a bigger truck or, in a particular case, a giant purple bus that slung out organic hot dogs piled with the most delicious toppings of beet slaw, mango relish, and other homemade delights. And that's just the start, for if there's anything we can learn from trends in the food truck world, it's the simplest and most basic of foods that can be (and often have been) adapted and offered in a variety of fashions.
Example: Dante's Inferno Dogs in Seattle
Pizza Slinger
Despite the often-cumbersome vehicle requirements, and relative mobility lack, required in a pizza truck, one can often find at least a couple of these vehicles in every major truck city. Though many could easily cook a pizza out of a regular or long, baking-style oven, most pizza truck owners insist on the use of a large, portable wood-fired oven for quality. These are usually attached at the end of a trailer or stuffed inside the already small space in one way or another. However it happens, either way it results in crispy charred crust, melty cheese, and the goodness of whatever other toppings they inspire.
Example: TRU Pizza in Minneapolis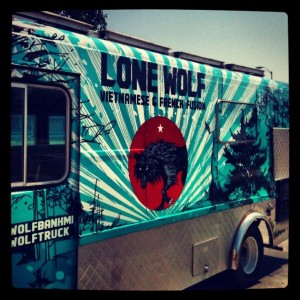 Banh Mi Belter
Easily the most interesting discovery popularized by the food truck craze, the Banh Mi sandwich is now a much loved items throughout the states. Vietnamese in origin, this pickled-veggie-slaw, cilantro, cucumber, jalapeno, and meat(often pork and pate)-stuffed baguette sandwich, when done right and with the proper crispy bread, turns into many a person's favorite lunch time item. Often featured with Vietnamese and other asian-inspired trucks (and some pork/bacon focused ones), this trend has quickly moved to launch operations based solely on different versions of this munchy sandwich, sometimes served alongside Boba Tea. And its fan bases always have their favorites; I still have yet to find a bahn mi more satisfying than the first truck I've ever been to.
Example: Lone Wolf Banh Mi in Tulsa
BBQ Delights
As neighborhood festivals and events had drawn center for various bbq catering tables, a-la the sorts of groups one would find in competitions, so did some of the new food-focused business owners start serving their fare out of a truck. In fact, next to the Taco trucks, BBQ Catering Trucks were likely the second major category to notably enter the streets. I can't count how many Jamaican BBQ, Pulled Pork, and other such vehicles I've seen at the random jazz festival held in random city suburbs. These have of course made a fast transfer to the city streets, especially in the southern states, offering vehicles both plain-colored and flashy with loads of smoked pork, beef, and turkey offered with traditional sides. The good ones are usually quite big to allow space for the required smokers, along with the retail prices compared to other trucks (bbq food almost always more expensive, whether it's restaurant or mobile).
Example: RedEye Barbeque in Durham

The Fried Foldover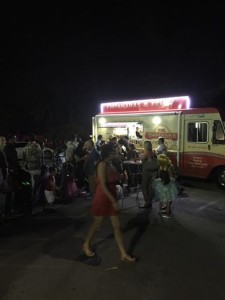 They may be known by many names and many styles (though interestingly enough most of those names are almost identical), but their forefronts have decorated the sides of many vendors, the deep-fried pockets of goodness drawing our delights. Empanada trucks offer a relatively quick-production lunch, being filled with everything from classic Ecuadorian stews to hamburger and mac+cheese. We can also see this style of food in various other fried dumplings, larger pastries (or 'pastie' as the british term dictates, god they're good), breaded pieroshkis, and its many other reincarnations. All of which only needs the simplest of equipment in the truck to produce, whether it's a friar or oven, before service.
Example: The Empanada Truck in Miami
Grilled Cheese-Catessans
Crispy, melty, rich, the heart and soul of our childhood has achieved a lot of attention in the past decade, having many a restaurant and food truck focused on updated Grilled Cheese and Tomato Soups for the grown-up life pop up. Stuffed in different breads, with a variety of cheeses and accompanied by whatever one desires in meat, spices, veggies, or who knows (I've even had dessert grilled cheese made out of donut buns and marscarpone-based centers). The success and practicality of these have skyrocketed; not only in simplicity of production (all they need to do is butter and griddle the bread of the pre-made sandwiches), but in customer love and nostalgia. I remember waiting very patiently for my own city to finally garner its first truck or restaurant of this style; I didn't care which it was, so long as we got one! And now am I happy it's finally here.
Example: Dadz Grilled Cheez in Philadelphia

Sandwiches Galore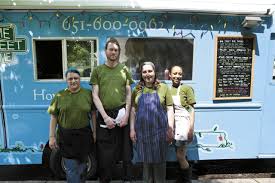 Though we've mentioned Bahn Mis and Grilled Cheese, the fact remains that sandwich trucks as a whole are close to eclipsing most any other style in choice of business. Whether it may be seen as laziness, a way to offer up an approachable way for the lunch crowd to try their cuisine-of-choice, or something in between, sandwich truck owners offer up a variety of wares within the simple confines of two piece of bread. They may be simply sliced cold, grilled, panini'd, or however, the fact  remains that these extremely diverse food styles nonetheless all share the same stylistic brotherhood. It's simply one of those options that we always keep a certain favorite in for the boring Wednesdays; I myself found an Italian sandwich truck lately that I simply can't wait to get back to.
Example: Home Street Home in St. Paul
Wrap-it-Up
Not quite as extensive as the other businesses in this list, but it'd be difficult not to find some truck that focuses on the classic cold wraps, burritos, or some other item involved with a filling being completely enfolded in some tortilla substitute. Tight, easy to hold, quick to assemble (not counting any filling cooking time that may be needed), these have provided one of the ideal street foods… so long as they don't cut them in half before serving (isn't that just annoying when you're trying to eat and walk at the same time!? I mean come on!).
Dessert Vehicles
They might not be as numerous as savory trucks, but the world of sweet-based vehicles has garnered a huge customer base. These trucks come in many styles, but there are a certain few that seem to keep standing out.
Ice Cream
I'm not talking about the old-school popsicle sellers with music ringing (though there are still certainly plenty of those), but the bevy of vans rolling out with hand crafted, smooth, creamy frozen custard made to be piled on top of a fresh waffle cone. Whether the flavors are rich and classic or vibrant and new, one simply can't argue with the wonders, mobility, speed, and affordability of an occasional ice cream treat. Oh, and don't forget all the shaved ice trucks out there.
Example: Van Leeuwen Ice Cream in New York
Cupcakes
The trend for cupcakes in news started with Sprinkles, moved to a Food Network competition show, and now onto food trucks to join other vendors selling cookies and who knows what else. It's not a surprise this trendy item in the foodie world found itself on the mobile scene, spreading to most cities to display the creativeness of aspiring bakers. Now it's only seeing how long this trend will last.
Example: Cupcakery in Boston
Crepes
Their stands plague the France's streets (not that I'm complaining), and the folded pancake has come to find yet another new home in stands on wheels where the hot cooking stones can travel to different locations. They may also offer savory delights, but really our true cravings, especially for the highly mobile folded ones, come in the sweetened varieties filled with fruit and/or chocolate. So fast and easy to consume too (least it should be).
Example: Holy Crepes in… Gaithersburg?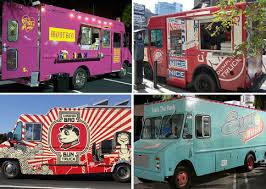 There are of course many, many other culinary and truck trends that have seen plenty of revitalizations throughout the country in one form or another. Going through every single one of these that could potentially qualify in this list could end up an immense undertaking for anyone. At the end of the day though, all that matters is what suits your own taste buds; as a customer, which trucks drive you crazy with hunger? As a potential owner, what is it that you really want to cook, and how will you make it happen on the streets? The classics are here for a reason, but they had to be new and different at one point before they became traditional. Maybe this list will have a few more unexpected additions in a few years.