Stressed out trying to find a memorable name for your competitive BBQ team? We've got you covered. In this post, we outline specific approaches you can use to come up with a name that's totally unique to your squad. Some of these name ideas are serious. While others are down right laugh out loud.
Follow the tips provided in this post and you'll have an original team name in less time than it takes to smoke a rack of ribs. Let's get started! If you're in the market for a BBQ truck or smoker trailer for your team, check out our lineup.
Pun Intended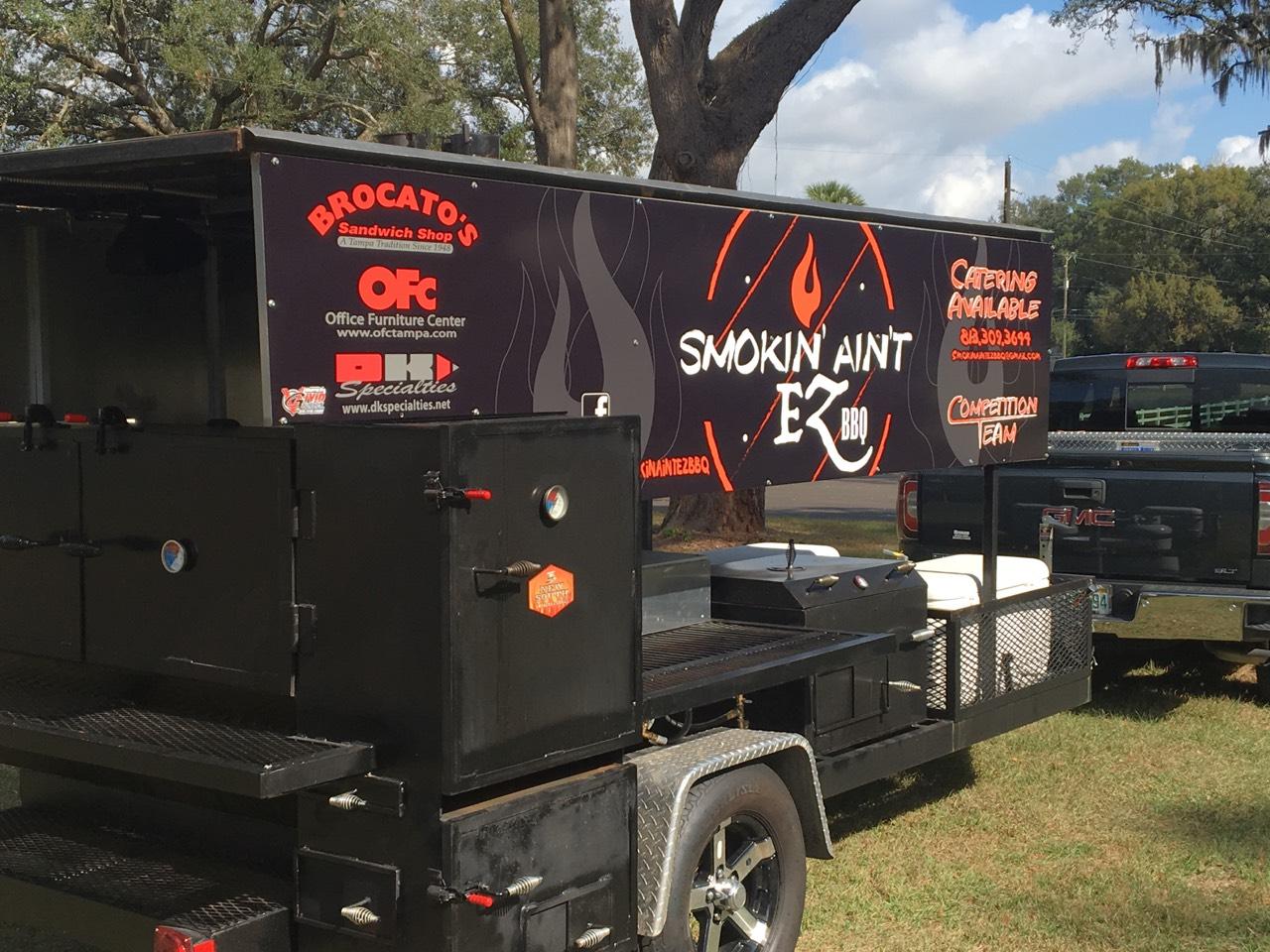 The BBQ industry has no shortage of clever pun opportunities when it comes to names. Some of these are downright runny, while others will make you roll your eyes. Either way, having a utilizing a BBQ pun exploiting different possible meanings of a word can make your team stand out from the competition while capturing the attention of customers.
Here are a few BBQ team name examples that with clever puns:
Smoking Ain't EZ
Sir Smokes A lot
Sweet Racks & Smokin' Butts
Smoking Butts
Sweet Buns & Smoked Meats
Big Racks
Billy Ray BBQ
Smoke You Longtime
Rub'em Longtime
Rub My Butt BBQ
Big Hog BBQ
Sweet Buns and Tasty Butts
Wild Piglet
Up in Smoke BBQ Joint
I Don't Have a Que
Regional Name Ideas
Let's face it. Most of the clever BBQ puns have been used (and abused) already. If a funny name isn't your thing, not to worry. There are plenty of teams that use the city, state, or region they come from to differentiate their brand. No need to be clever here. Simply attach a location to the name to get started.
NYC BBQ House
Los Angeles Ribs
South Central Tri Tip
Mexicali BBQ
The Coast BBQ
Minnesota Slow Cooked Barbecue
North Florida Meat Co.
Texas Sauce and Que
Bakersfield Seasoned Meats
Santa Ana Tasty Que
Orlando BBQ Heaven
Dixieland BBQ Inc.
Washington Pig Roasters
One of the other benefits of using a regional name is if it aligns with the style of BBQ you produce. For example, if your team name is KC Traveling BBQ, customers will expect your product to be thick, sweet, smoky and spicy. If you chose Baltimore BBQ Trailer then folks will anticipate more of a creamy and tangy tiger sauce. The regional approach is a fantastic way to attract a certain demographic of BBQ consumer that enjoys your style.

Use Your Own Name
No originality needed with this timeless approach. If you can't find a good name that resonates, why not use your own name? There are plenty of big BBQ businesses using the founders name to market their meat like Stubb's or Famous Dave's. You can follow this straight forward approach to creating your name too:
Bobbies BBQ Joint
Roberts Artisan Meats
The Johnson's World Famous Barbecue
Miska's Sticky BBQ
Lauren's Que
The Bethany BBQ Experience
Tasty Dave's Amazing Que
Griffin's Que Company
Steven's Smoked BBQ Sandwiches
Pete's Pig Roast

Catchy Descriptive Words
Sometimes the perfect adjective is all you need to craft the right BBQ name. The words listed below are perfect for describing a mouth watering BBQ business.
Tangy
Saucy
Savory
Slow Smoked
Artisan
Smokehouse
Charcoal
Grill
Char
Sweet
Rich
Fiery
Honeyed
Juicy
Inside this post, we've shared four time tested ways to come up with a competitive BBQ team name. If you're still not coming up with any names resonate with you not to worry. Sometimes it can take a few days or even months to create a name you're satisfied with.
If you still can't think of anything we recommend keeping a notepad to document name ideas as they come up during your daily life. You may have a great idea in the most likely places while driving to the store, in the shower, or grilling in the the backyard. If you have a way to jot down those ideas as they come, you'll be more likely to remember and come back to the ideas later.
Finally, social media is another terrific way to identify a name. You can ask friends and family for suggestions to get them involved in the process. You can also ask for feedback on name ideas you've already created. If you're not someone that has a lot of ideas, you probably have a friend that does! Have fun and enjoy the process of creating your name!