Contact M&R Specialty Trailers and Trucks Using the Form Below to Design Your Custom Toy Hauler Built To Your Specifications. Call 904-397-0246 For Immediate Assistance.
Tough Boy Toy Hauler Package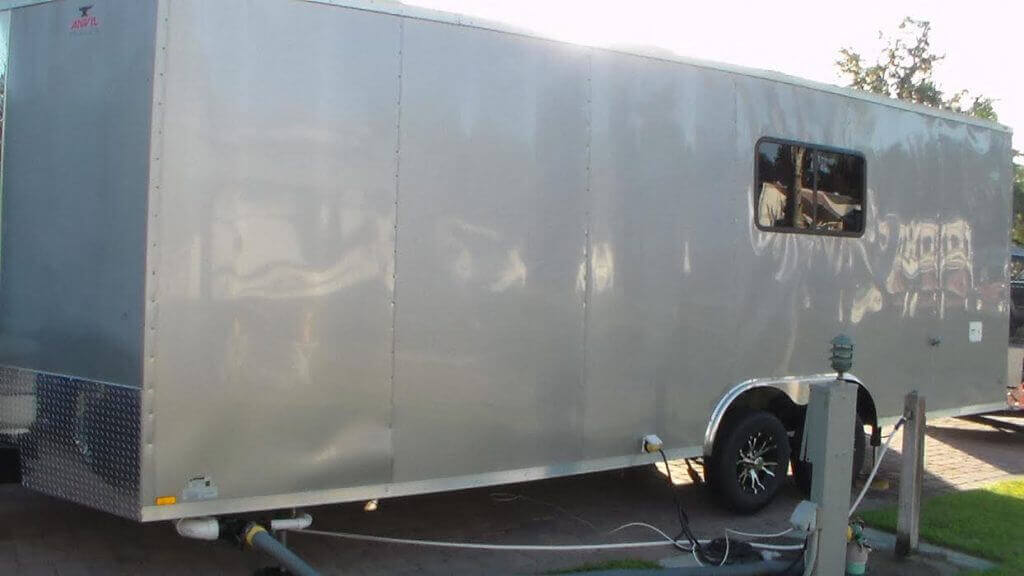 Looking for a toy hauler that won't break your budget? Whether you plan to transport motorcycles, ATVs, dirt bikes, golf carts or all of the above M&R Trailers and Trucks now offers Tough Boy Toy Haulers that fit your budget. Unlike other expensive mass produced toy haulers our line of Tough Boy's are built to fit your needs. With Tough Boy Toy Haulers you have the flexibility to pay for the features that are important to you and save money on the things that aren't. Our Tough Boy Toy Hauler comes in the following sizes and layouts based on options. Click the link below to view the layout for each base package and fully loaded toy hauler package:
Toy Hauler Exterior: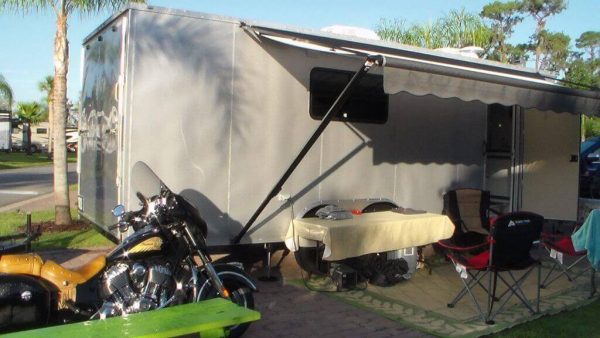 The build featured in the video above is a standard layout of a 24 foot trailer with 8 foot ceiling height. This unit comes with a generous 18 foot awning making your hauler the ultimate gather place for family and friends. As mentioned in the video, we don't just custom manufacture campers, we use these on the weekends to transport our own toys and have put a lot of thought and testing into developing a toy hauler / camper that's functional and easy to use.
One way we've made our trailers easier to use is by installing electrical outlets on the right and left side of all our trailers. On the awning side, you'll also find an outlet installed outside the unit specifically with the intent of placing a TV to set on a table or mount on the wall. Of course, our units come wired inside and have the option of a built in TV package for those that want to stay connected while "roughing it." We also understand that camping and grilling go hand in hand.
Another subtle amenity that makes these units more convenient for you is the option to install a propane tanks at the front of your trailer and plug a grill directly into a line of your trailer. This means less hassle and preparation for you before getting on the road!
With Tough Boy Toy Haulers you have the option of adding hydraulic leveling system to each unit. This is ideal if you plan to park on uneven ground at a campsite or near the beach. This level system doubles as a jack in the event you need to replace one of the tires while on the road. We recognize the last thing you want to do is manually turn a crank to lift your trailer. With Tough Boy Toy Haulers, all you need to do is push a button to elevate your unit instead.
Toy Hauler Interior: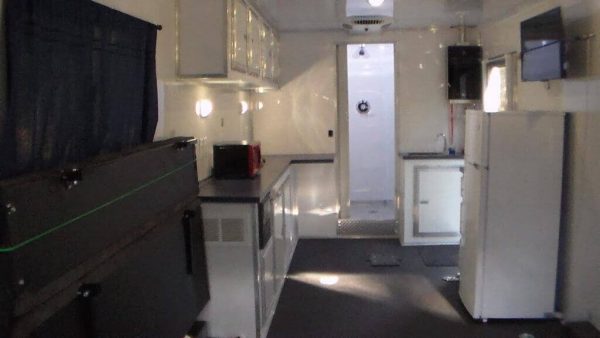 At M&R Specialty Trailers and Trucks, we believe in efficiently utilizing every inch of interior space and consolidating equipment whenever possible to create a comfortable home away from home. When you enter the unit, you'll notice a full-sized Delta shower with a toilet installed even in our base packages. As you can see in the video walk-through there's plenty of space in this bathroom. A hand sink and vanity mirror also come standard in this unit.
Whether you are planning camp somewhere for the week or just a weekend, each Tough Boy Toy Hauler comes with a generous amount of counter top, cabinet space and storage in the unit. This is key for storing food, cooking utensils or creating a make-shift bar while you're on the road. Not only are these cabinets provide storage when parked, but each one is installed with a locking mechanism to prevent them from opening while you're on the road. These heavy duty locks ensure you aren't surprised to discovered an unwanted mess after a road trip.
As you would expect in to come standard in any modern RV, a fridge and freezer is also installed standard to keep drinks cold and food cool. If you opt for the upgraded television package, the screen can be easily moved and viewed from any part of the trailer. Another differentiator of our toy haulers is the walls. Most haulers on the market use a fake wood finish. These finishes look great in the showroom, but get damaged easily get scratched and punctured easily. Not good if you're planning to take these on the road and use regularly to store motorcycles or ATVs. Our walls are made with 3-inch fiberglass with a baked on white enamel finish. These fiberglass walls are supported by metal plating. As you can see from the video demonstration these walls can take a beating without incurring dents or dings. They are also super easy off and clean when they get dirty.
To increase space in the trailer for motorcycles or ATVs, you can raise the queen size bed to the ceiling of the hauler. This will bring your bed up to 6'6 clearance so you can store any motorcycle or ATV underneath. You can get even more clearance if you didn't have a thick 10-inch mattress installed as shown in the video. For additional seating and bedding, you can also get two fold-out couches in the unit. If you wanted, you could sleep up to six people inside this unit. This seating can slide against the wall while in transit to maximize space. There are also tie downs built into the floor.
A motorcycle chalk with a lock-and-load system is also built in. Based on your equipment and needs, we can install other equipment to ensure your investments stay secure no matter where you take them. Finally, there's a full-height ramp down door installed at the rear of the unit providing easy drive-up access for a motorcycle or four wheeler that comes standard in our base models.
There's also a pull down screen door at the rear that you can use to provide additional ventilation on nice evenings that come standard as well. As you enter and exit the toy hauler you'll also notice a push-button screen door in place to keep bugs out of the unit. As you take the guided video tour, we hope you'll notice all the little details that end up making a big difference in the overall experience inside our toy haulers.
As mentioned during the video walk-through everything on our Tough Boy Toy Haulers have a variety of premium options that can be added depending on your budget and needs. Use the calculator at the top of this page to mix and match different features. If you want to learn more about our line of premium Tough Boy Toy Haulers that won't break the bank, call 904-397-0246 for more information.
What Makes M&R Specialty Trailers and Trucks Different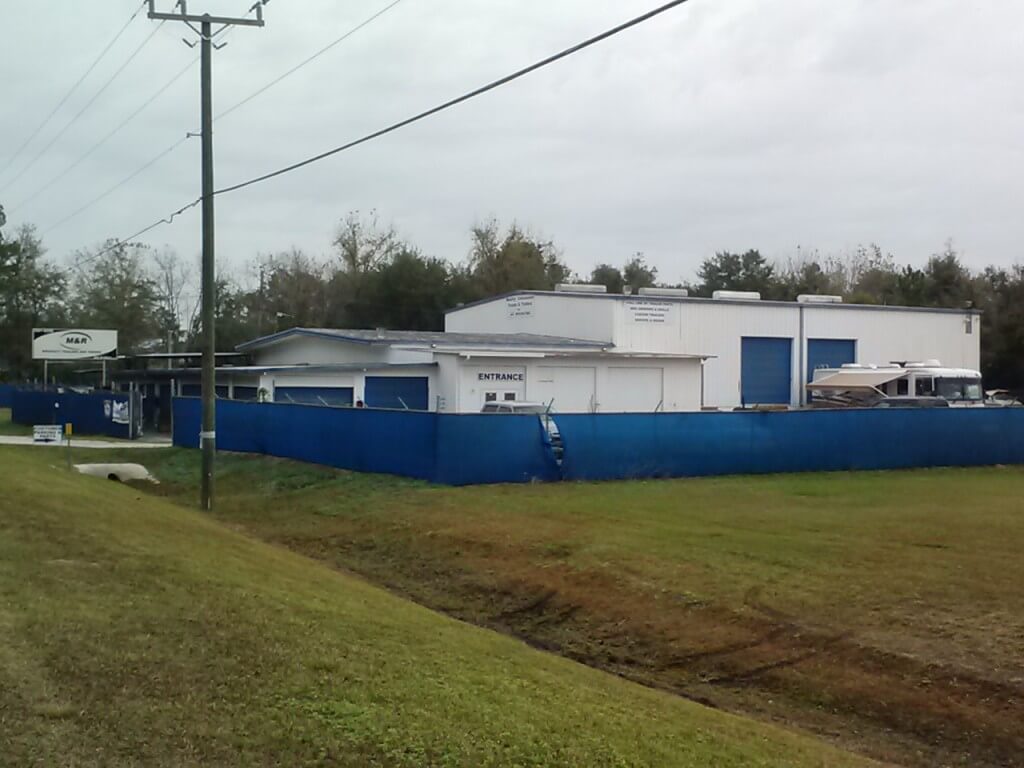 About Us
For over 15 years M&R Specialty Trailers and Trucks has built a reputation for quality. We strive to provide top of the line fast, friendly service at competitive prices. Our quality custom Concession Trailers/Trucks, BBQ Smokers and Specialty Trailers are made with extra effort given to structure and design, guaranteeing safety and long life for every unit we make. We have over 50 yrs. combined experience in the Concession Trailer/Truck, BBQ Smokers and Specialty Trailer business. Come visit us at our new 12000 sq.ft. building and see what we are working on.
One Stop Builder – If you can dream it, we can build it on-site at our 12,000 sq. foot manufacturing center. From start to finish, we've got you covered. We design concession blue-prints, build the foundation of your vehicle, including plumbing, electrical work, and apply the finishing wrap in one convenient location.
We Accept Customer Supplied Equipment – We have no problem using your equipment. Many customers save money by using used equipment or equipment they already own. If you have your own equipment we will not charge you extra to install it.
Flexibility – We are not a one size fits all company. We will work with you, before you buy, to get the exact design you need to make your business run as smoothly as possible. We have no problem installing customer supplied equipment to help you keep costs down.
"We have had our BBQ Concession Trailer in service for 4 months now and we couldn't be more satisfied of the complete build. Thanks to Richard who spent endless hours getting everything just right for easy of operation. "
"I just wanted to take the time to thank you and Bob and Richard for all of the hard work and time that you put into making our trailer. Our health department told us that they wished all trailers were built the way you built ours and it is the model for all others to follow."