This is a man's world… or at least, that's what James Brown said. Cars, trains, electricity, money, toys for boys and girls, man made them all. But as he so eloquently puts it, they would be nothing without a woman. (Photo Credit Left: Susan Aflak of La Laquerie.)
However you agree or disagree with the song's opinions, the fact remains that the world of restaurants and restaurant kitchens has always seemed dominated by men; it's hard not to hear at least one female contestant in a cooking competition show not bring the concept up in some form or another. Which I've always felt ironic, giving the extremely clichéd and sexist view of women in the home kitchen… but oh well.
But as I'm sure we're aware, the female presence in restaurants is truly nothing to balk at, with strong women owners and head chefs seen throughout the country nowadays. And of course the restaurant industry would be nothing if not for the pioneering work of certain women throughout the centuries (Julia Child anyone?), not to mention the many kitchens started through the long hours and labor of women transferring from a family stewpot or grill to then serve their communities (I always think of the many mature, wise, strong Latin women who know doubt have stood grilling tacos and making multiple nameless stews in small trailers or corner kitchens). Men may have played their part, but without the dual efforts of women, this and many other industries would certainly not be what it is today. Heck, if we expand our sights outside the US, we can still see street stalls throughout Europe, Asia, and Central America still operated and run by experience women standing over a steaming pot or grill of deliciousness.
And the same can of course be said for our beloved food truck movement. Leagues of innovative female entrepreneurs have chosen to take up shop on the mobile front along with the many other competitors out there, so far doing just as well in their culinary offerings. It's safe to say that, despite our notable impression of the heavily male-driven ranks in the food truck world, eliminating all female influence in the game would likely leave a very noticeable hole in our much-loved streets, one which I'm sure many of our taste buds would severely start missing.
So why don't we take a look at some of the entrepreneurial femmes that have contributed to this street food scene we so adore.
Charlie's Buns N' Stuff (and Charlie's Dog House)

We start big with a bold, big burger truck! Working out of Seattle, owner Veronica Weaver expanded her 2010 project, a gourmet dog and sausage cart named after her Yorkshire Terrier, into a full on organic, local hamburger operation. They've already added a second truck onto their lineup, offering up their simply delicious, juicy and cheese-gooey creations to the streets, along with some fried side offerings of course.


Taco Heads
Sarah and Christina Castillo offer a fun dining experience. Serving out of their decent-sized trailer, Taco Heads serves deliciously well-lauded Mexican fair next to an outdoor patio on most days, so guests can usually find a comfortable shaded spot during their visit. And being in Fort Worth Texas, the year-long tolerable weather makes for a perfect business strategy.

The Institute of Chili
The city of San Antonio has a long street food tradition, particularly noted are the "Chili Queens" that would set up outdoor stalls to ladle out their own family recipe spicy stews. Ana Fernandez continues this history with her own truck, after learning how to cook from her grandmother, offering up older recipes like her family's stew, brisket tacos, and waffles made from an 88-year-old iron. She even painted and decorated her truck herself, mostly due to lack of funds, but channeling the true entrepreneurial spirit of the women that came before her through and through.
Well they did at first. On second inspection, it seems the girls have moved onto a new truck venture called "Chamoy City Limits," focusing on what looks to be quite amazing shaved ice made with pickled fruits, candied peppers, and homemade chamoy straight from their childhood. Taking their childhood delights to the next level for a cool, refreshing venture.

Lone Wolf Banh Mi
Not all men run a business alone, and neither do all women. Husband-wife team Danielle and Philip Phillips co-own this Vietnamese and French Fusion (aka Vietnamese food…. Anyone,anyone?) Truck. The duo has obviously proven successful, garnering long line for the much beloved spicy, Asian street food flavors. As the husband focuses on food, Danielle manages and organizes every other business aspect, keeping everything properly alive and in line. Their Tulsa truck has even been featured in the recent season of CNBC's "Restaurant Startup" as they move onto the next platform for their culinary adventure.

Maggie on the Move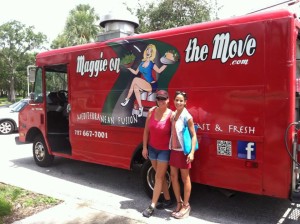 Some owners have done more than simply offering up tasty food; after starting out in the Tampa Bay Farmer's Market circuit, Maggie became one of the very first trucks to push into and market in the St Petersburg area. She has been involved in many of the city's early movement's to encourage and build up an ongoing food truck scene, promoting events and supporting new legislation to make it possible for other trucks to actually have a chance at operating. The truck itself has been well received, with its twist on Mediterranean cuisine and amazingly welcome atmosphere.
Dolci Peccati
Can't end a list of crafty entrepreneurial women without something sweet (the baking food truck section is practically dominated by them), and it can't get any sweeter than Gelato (especially in a hot area like southern Florida). Twin sisters Nati and Stefanie started from the base up, moving from their boring careers, one of which was graphic and design work (which explain their highly attractive and trendy personality, webpage, and truck design), and going through every step to start up a successful gelato truck. One even went to a gelato school! Sign me up for that please. They do what they love, offering a whole selection of quality, artisan-made flavors in scoop, pop, and even milkshake forms, and it has paid off, growing into a strong frozen treat business which makes myself wish I lived in the South.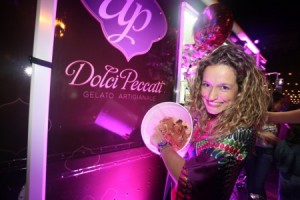 We here at MR Trailers have worked alongside a few of these knowledgeable women in our pursuit to study new food truck cities, including Janelle Luce from La Empanada Truck, Fawn Turner from Cats Meow Catering, Heather Baggett of Cottage Crepes, Rebecca Kelly of Street Chefs, Wendy Gonzalez of Latin Lunch Box, and Vonda Patterson of Rolling Lobstah. None of those articles would be what they are without their help, and the amazing food trucks they've put rolling onto the street. I know I can never fully express my own gratitude, nor the words to truly capture the influence this long history and tradition that the fairer sex has applied towards the street food trade. For now, I can simply be thankful and look forward to the next food destination, as I hope those reading this shall be.