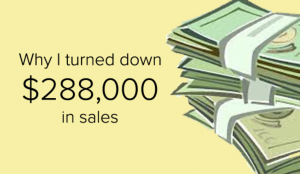 Do you have the ability to produce 75,000 2 oz portion cups a month for an airline food service distributor in Chicago?"
I received this email a few weeks ago. It started with my appearance in my alma mater's alumni magazine. I had a nice spread (page 10) if you'd like to read it. The article was about entrepreneurship – living the dream – and how Bryant is having great success with their own program.
College promotion aside, let's get back to the email.
It was from an alumni of Bryant University. He has worked as a broker to the airline industry for years. Naturally, I picked up the phone and called him. I thought it was an exciting opportunity. The bid was due in just a few weeks.
I told him I didn't have the production capacity.
But I wanted until Friday to figure this out – to find a co-packer who could produce the volume I needed at a competitive price to win the contract. I went to Google to find a kitchen (should have used a different tool that was just released, though!) – because the equipment needed isn't available in Vermont. After about half a dozen calls to co-packers across the nation, I landed on a company in North Caroline that said they could meet the demand.
I signed an NDA and sent over my recipe.
I was quoting one of the least-expensive mustards for us to produce – not to mention it's egg, dairy, and sugar free – which opens up a lot more of the "flying public". Four days later, I had a quote in my hand.
I could produce a 2-oz portion cup for $0.37 shipped to Chicago. It included everything: ingredients, cup, custom-printed foil lids, case-pack boxes, labor, and freight. I figured if I could sell it to the distributor for $0.60/unit, I'd be raking in the dough:
That would have been $540,000 in gross annual sales and a $207,000 gross profit margin.
And the best part? The entire process was automated. I just had to schedule production and figure out freight. My business would have gone from 0-60 overnight. I was ecstatic. The airlines were going to bring my company into the big leagues.
Then things got interesting.
I called the airline broker the next morning. Little did I know, he would slash my hopes & dreams.
I let him know about my $0.37/unit cost. While commendable, he needed me at $0.32/unit shipped to be competitive – oh, and that needed to include my profit, too. That meant I needed to decrease my cost at least &0.07/unit – to make anything.
He told me I was competing with Heinz Honey Mustard – whose 2 oz cup hovered around that price – and they could come "off-book" a little bit. That means the sales guy could knock a few pennies off without approval. And when we're talking 75,000 units, it's not rare for tenths of pennies to be crucial to your business.
I asked the food broker if I could have a few more days to get our costs down.
That led me to another manufacturer – much closer to Chicago. I explained the situation to the manager and the requirements of what was needed to win the bid. Could he get me there? It was time to find out.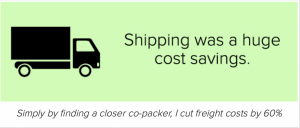 Turned out, the shipping cost along was cut by 66% – just by producing closer to the end destination (Total duh, right?). That was promising. And their facility was bigger. That allowed the kitchen to be more efficient than the one in North Carolina. And that really mean the cost could come down even more.
In only 24 hours, I dropped my shipped unit cost to $0.30. That meant, I was going to make $0.02 on every portion cup I sold. Let's do a little math. Those two large numbers you read about above quickly shrunk to….
$288,000 in gross annual sales and $18,000 in annual gross profit – a mere $1,500/month.
And to do that, I was removing ingredients in our recipe to make it cheaper. Yes, you read that right. I was compromising my product's super-premium quality. But, believe it or not, that wasn't the last straw.
I needed $100,000 in investment to make this happen.
I run a tiny company – some would probably still call it a hobby. And because distributors (sometimes) don't pay you until 60 or 90 days after your invoice is sent, I needed the cash to fund three months of production (It was roughly $80,000, but I rounded up because, well, you never know when you're going to need more cash). And then I got a heavy dose of "Raising money 101".
I called my brother, who does investment analysis. His first question was:
What's going to happen when you need cash for the next three months?
He was right. I would need even more money to fund the months 4-6. Another $100,000. Let's take a closer look at the numbers (you can also skip all the math and head down to the lessons below, if you'd like).
Loan: $100,000
Interest rate: 8% (conservative)
Total interest: $8,000 ($667/month)
Amortization rate: 4%
Monthly payment: $4,000 ($333/month)
Total monthly payments (principal + interest): $1,000
$1,500 GPM – $1,000 loan payment: $500.
I was going to make $500/month off of $288,000 in sales.
It gets worse. Remember how I said, we'd need more cash for the next 3 months? Let's get another $100,000 loan (another $1,000 monthly payment – and remember, I'm still paying off that first loan).
$1,500 GPM – $2,000 loan payment = ($500).
In 4 months, I would have been $200,000 in debt – and losing $6,000 a year. For an investor – and my company – that's the ugliest picture you can paint. I'd be in debt up to my neck, and investors would not be happy. It would have meant slow returns for their hard-earned cash.
An opportunity (sometimes) is never as good as it sounds.
I emailed all parties involved the next day with my decision to pull out of the bidding process. There was no way I was going to jump off a cliff with my company – only to land in a pit of sharks and sharp, shiny things. The six-figure opportunity was dead.
I poured my all into this project. I had days to make this happen. And while, I could have hit the numbers to win the bid, accepting the contract would have ruined my company.
While I'm happy we passed on the bid, the last few weeks have been quite the learning experience. Here are a couple lessons:
1. Don't grow too big, too fast
Small is awesome. But, so is growth. I looked at this as an opportunity to catapult my company into multiple six-figures of revenue. This was it. It was the opportunity I'd been seeking. But, when it all comes down to it, slow, steady growth is what I need. Growth at a level I can manage. One store at a time will get us
2. Call people – don't email.
I had five days to get a number in the broker's hand. Email wasn't going to cut it. That meant picking up the phone and getting things done. So what if you have to leave a voice mail (or three)? Get the answers you need to make your project – or new opportunity – successful. And remember you're a human being. Calls don't have to be scripted. Be yourself.
3. Companies look to break-even on airline deals
When I contacted the second co-packer he let me know that many companies look to break-even on airline deals. They look at it as a marketing expense to drive retail sales if they're nationally distributed. Well, since I'm distributed in little pockets of New England, this wasn't a marketing expense. It was a money-making opportunity that turned into a non-money-making opportunity. Break-even deals are for big companies.
4. Competing on price isn't ideal
To get down to the needed price, I often found myself cutting corners. My "airline product" would not have been the product we sell on retail shelves. And that didn't sit well with me. As a small food business, it's nearly impossible to compete on price. You simply don't have the economies of scale the large players in your market have. That means, I've got to justify my $6.99 price tag. To me, that's easier to do than selling $0.99 yellow mustard. With that being said, I realize price plays a factor in purchase decisions.
5. It's all about numbers
In the last few weeks, I created 7 spreadsheets for this airline opportunity. Each automatically changed based on a number of variables.  While I'm a self-professed numbers junkie, numbers have never played a more important role in my business. Starting – and more importantly, growing – a small food business is all about numbers. Sales, product cost, margins, pricing, volume, case cost – you name it. Numbers surround this industry. If you're starting up, I hope you like math.
With this opportunity in the books, I'm focused on a results-oriented trip to the New York Fancy Food Show at the end of June. I'm exhibiting in the Vermont pavilion in booth #5031. If you're planning to attend – or exhibit – I'd love to connect.
Now, it's back to work – lots of events, farmer's markets and more coming up.